Thoughts
I think it's quite clear by now that G80 is something more than a bit special. NVIDIA's new baby, especially when implemented in full as GeForce 8800 GTX and replete with a 768MiB framebuffer, 384-bit memory bus and nearly 90GB/sec of memory bandwidth, is a monstrous D3D9 performer and quite able to outrun absolutely anything else available in any modern game you throw at it. It'll often do so at very playable framerates, at resolutions as high as 2560x1600 and with a good level of AA and AF applied.

And those pixels have the potential to look as good as they ever have before with a true 8xMSAA mode, almost entirely angle-invariant texture filtering and distinct (and probably complete) lack of sampling issues, and all at rates that drastically embarrass everything that's ever come before. The entirely scalar architecture is built for efficiency (it often displays more than twice the performance of G71 for just over twice the area) and it's not too hard to make it run at peak for most ops (another plug for reading about the gory details at B3D, nudge, nudge) and witness peak rates in almost all areas of the chip, and we imagine it won't be too hard for NVIDIA and developers to get the most out of what it provides if any applications do show issues executing on what's an entirely new architecture.

Getting back to how good it can make your pixels look and we witness what's probably the most important facet of the chip when applied to current D3D9 games and applications. That it tears through them as well as it does means you can honestly experiment with CSAA and the 8xMSAA modes and be confident that your performance isn't going to take a giant nosedive. We said it earlier, but out-of-the-box image quality is excellent and that's before you make it look ever better with your in-game or driver tweaking.

The form factor will take a bit of getting used to, being 10.5 inches long and weighing 740g in GTX form. And with it needing two power connectors, we can see some people pondering upgrades for the rest of their system at the same time as a 8800 GTX. The cooler is great, barely breaking out of its default whisper even under load, and doing its best to get all the board's heat out of the back of your case before it propagates or collects elsewhere. You need to be prepared to take on 8800 GTX in your system, but it's clear the benefits are numerous and compelling.

Someone asked me in the run up to launch, "is this the most exciting graphics chip of all time?" It didn't take long for me to answer yes, and I still say that today despite knowing (well, I think so at least!) a goodly chunk about what ATI have coming. It's a shift for the company that marks the end of four years and nearly half-a-billion dollars of engineering effort, research and development, and the end result is by far and away the fastest and best-looking graphics board ever driven in a home PC.

Going forward, we have looks at GeForce 8800 GTS (96 SPs, 320-bit bus, 640MiB, 500/1200/800 clocks), some SLI work and the ever-looming D3D10 analysis on Windows Vista, all to come here at HEXUS. In fact I know the other guys are hard at work on some of that and we'll have more than just this piece out today. With any luck links to those will be on this page somewhere, so keep on clickin'. G80 is freakin' awesome, carry on reading about it!


HEXUS Awards
NVIDIA's GeForce 8800 GTX represents all that is currently good about GPU architecture. In view of this, we have no hesitation in awarding it our coveted Editor's Choice award.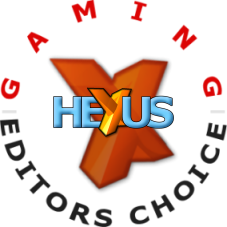 NVIDIA GeForce 8800 GTX
HEXUS.links
For more hardcore analysis courtesy of the inimitable Ryszard, we suggest you head on over to Beyond3D for the full lowdown. It's worth the read, folks.

The HEXUS GeForce 8800 GTX technical evaluation makes up only one-quarter of our G80 coverage today. Please head on over to the links below for more retail coverage.

SCAN 3XS Triad 'G80' PC

ASUS EN8800GTX GeForce 8800 GTX retail graphics card

XFX GeForce 8800 GTX retail graphics card

You may also be interested in some of the latest hardware used in reviewing the GeForce 8800 GTX.

Intel Core 2 Extreme QX6700 quad-core CPU review

Corsair Dominator TWIN2X2048-PC8888 DDR2 RAM

Cooler Master Real Power Pro 850W G80-approved PSU


HEXUS.community
We're very eager to hear your thoughts on our GeForce 8800 GTX coverage or, for that matter, on any topic you like. You're most welcome to participate the friendly HEXUS community. We look forward to seeing your comments there.