Primed for overclocking
AMD came bursting on to the high-end graphics scene with the Radeon R290X in October and, for a very short while, laid reasonable claim to having the fastest gaming GPU in the world. Nvidia decided that AMD's hot-and-bothered GPU wasn't a match for the Kepler architecture powering the majority of GeForce cards and, a couple of weeks later, unleashed the full might of the GK110 die. Productised as the GeForce GTX 780 Ti it is, quite simply, the best gaming card you can buy.
Partners have acted with alacrity in getting their custom-cooled, overclocked cards into the marketplace. EVGA's Superclocked ACX version does a good job in balancing performance, cooling and price, but fast as it is, there are better GTX 780 Tis out there.
Tracking EVGA's conventional release schedule means the Superclocked ACX is usually joined by the better-specified Classified card a little while later, usually with a small price premium. That time has come.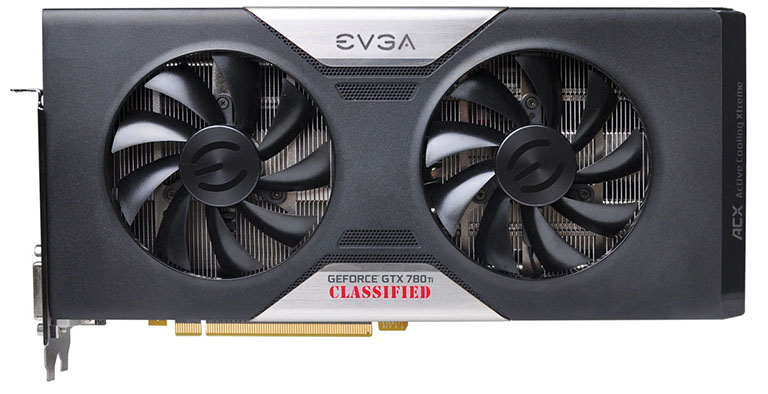 The now-familiar look of the Classified is in evidence here. EVGA uses a larger PCB, better voltage regulation, and a six-heatpipe cooler to enable higher frequencies. Larger in this case means stretching the vertical height to 5in - notice that the cooler is much taller than the standard PCI bracket - though the length is kept at a moderate 11in. A couple of 80mm fans look positively small when set against one of the the largest coolers we've come across.
This card is evidently primed for overclocking past the 1,020MHz core speed it ships with, and EVGA improves upon the standard ACX design by bumping the power delivery to two 8-pin connectors - good for 375W of juice - and, right next to them, makes room for EVBot connectivity. Purchased separately, it provides a means to over-volt the card to way past Nvidia's specifications.
Classified is one of the few Nvidia cards equipped with a second BIOS, whose primary purpose is to facilitate overclocking when using mad-hatter cooling such as LN2 - thus circumventing potential cold-boot problems - though it's also useful if, somehow, you manage to corrupt the main BIOS when overclocking too far.
EVGA sensibly includes a metal plate between the cooler and PCB, acting as a heatsink for the VRM components and 3GB memory surrounding the GPU. Companies are happy overclocking the core but tend to leave the memory alone on GTX 780 Tis; EVGA continues that theme by clocking in the RAM at a reference-matching 7,000MHz (effective).
Drilling down, the card features a 14-phase supply for the GPU and an extra three for the memory, all controlled by CHiL CHL8318 VRM. 3GB of memory is supplied by Hynix and run at 1.6V.
Real-World GTX 780 Ti MHz Boost

Boost Clock

Actual Boost

EVGA Classified

1,085

1,150

EVGA Superclocked ACX

1,072

1,137

Palit Jetstream

1,046

1,124

Gigabyte GHz Edition

1,150

1,228

Gigabyte OC

1,085

1,124

Reference

876

980
Understanding just how fast a card is likely to benchmark requires knowledge of the in-game frequency, as opposed to the tepid GPU Boost speeds listed in the specifications. Every single GTX 780 Ti in our labs has run faster than advertised. EVGA's Classified is no different, so here is its gaming frequency compared to other reviewed cards'.
A general rule of thumb is that you can add a further 70MHz or so to the stated GPU Boost. EVGA's clock isn't the highest, granted, but is very competitive against a wide range of partner-overclocked boards.

EVGA sticks to the reference outputs - DVI-D, DVI-I, DisplayPort and HDMI - but has a custom PCI bracket that, the company has previously said, enables better exhausting of hot air. We're not sure how much of a vent is needed on the back in view of the open-air design, however.
Nvidia has changed the gaming bundle since the turn of the year. Now only Assassin's Creed IV Black Flag is included, with Batman Arkham Origins and Splinter Cell dropped. EVGA, meanwhile, bundles in three games of its own: Deadfall Adventures, Painkiller Hell and Damnation, and Rise of the Triad for free.
Backed by a three-year warranty, the Classified model is currently retailing for £615, or almost £100 dearer than an overclocked Palit card. It's tough to countenance such a premium when out-of-the-box performance is likely to be marginally better, but let's take a good look at the benchmarks before passing judgement.