A familiar formula
We bet you wouldn't say no to a GeForce GTX 780 Ti magically appearing under the Christmas tree tomorrow. Partner cards are now widely available and start at £520 for the reference model with a sticker, rising to over £600 for fully-custom cards that are overclocked enough to provide an extra 10 per cent performance over the already-fast Ti.
Our examination of the world's fastest gaming GPU has taken in two Gigabyte cards as well as an EVGA. The trio offers reference-beating performance but, crucially, are priced high enough to make the decision between reference and partner cards a difficult one.
Palit doesn't believe that well-overclocked partner cards should arrive with a significant premium. A case in point is the GTX 780 Ti Jetstream that's now available for £530.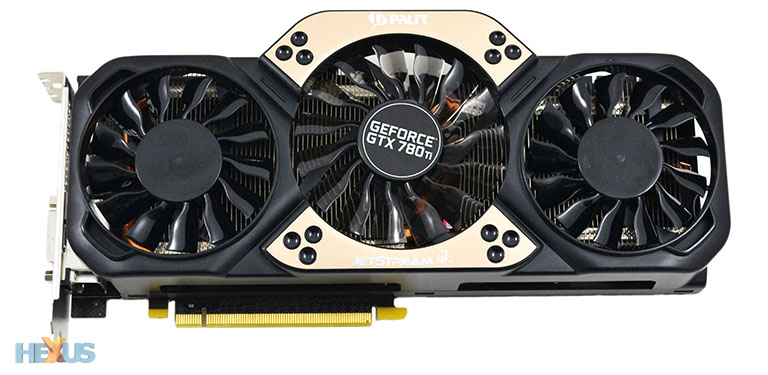 You'll know the GTX 780 Ti shares the same thermal and die-size characteristics as the regular GTX 780 and Titan. This means partners are reusing established coolers in the transition between cards. Palit is no different, harnessing the oft-used Jetstream heatsink this time around.
In a nutshell, this means strapping a three-fan cooler on top of a couple of heatpipe-connected heatsinks sitting underneath. The central 9cm fan is placed a little higher than the surrounding 8cm pair, leading to a flared section that isn't entirely necessary. It's worth noting, also, that Palt's chunky heatsink causes the card to sit 2.5-slots high. This should cause no problems in the large chassis that we expect enthusiasts to house a card of this ilk in.

Connect it up to the system via the usual 8+8-pin connectors present on ultra-high-end cards and the central fan is, like the GTX 780 version, lit with blue LEDs. Palit's card is perfectly functional in design but doesn't feel as nice to hold as the reference model we've come to adore; the plastic here is somewhat flimsy in comparison.
But the card is good where it matters, as it's clocked in at a default 980MHz core (up from 876MHz) and boosts to an average 1,046MHz. This actually places it lower than the pre-overclocked competition, though the real proof of a card's potential is only realised when it's in the system - most partner cards run way, way faster than the quoted GPU Boost speed. Going by previous experience, Palit's real-world speed should be very good.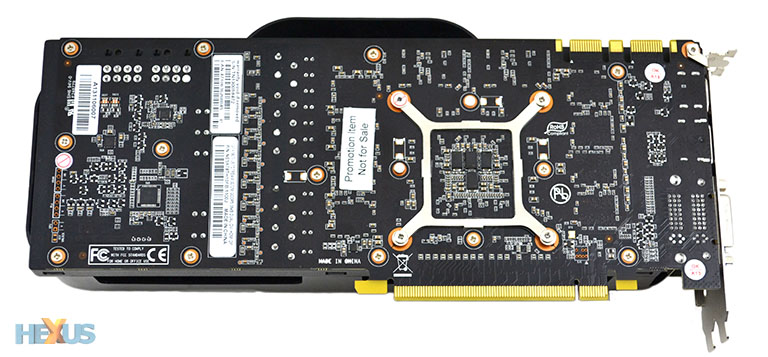 Unlike the regular GTX 780 variant, Palit has not seen it fit to overclock the memory here, sadly, and it runs at an effective 7,000MHz. The 3GB framebuffer is contained on the same side as the GPU, and Palit's cooling design includes decent-quality thermal pads between chips and heatsink.
It is reasonable to assume that, in time, Palit will follow the recent trend of releasing a faster version of the GPU under the Super Jetstream banner. We expect it to be no different in terms of design, however. Measuring 11in tip to toe - 10.5in for the PCB section - its size is consistent with other GTX 780 Tis.

We're happy to see that Palit hasn't fiddled with Nvidia's default outputs for high-end GeForces - DVI-D, DVI-I, DisplayPort and HDMI are the order of the day. The card, backed by a standard two-year warranty, is eligible for Nvidia's holiday bundle consisting of Batman Arkham Origins, Assassin's Creed IV Black Flag, and Splinter Cell Blacklist.
The key selling point here is the very competitive £530 price tag for a GTX 780 Ti. Let's rattle through the benchmarks and see if the Jetstream can mix it up with the very best single-GPU cards on the planet.