Introduction
NVIDIA's GeForce GTX 670 is a fantastic graphics card for enthusiast gamers and we've been impressed by what we've seen of custom cards from ASUS, EVGA and KFA2.
There's clearly no shortage of choice if you're in the market for such a card (and a couple of the aforementioned have picked up a HEXUS Recommended award), but it seems would-be buyers have another option that's high on the most-wanted list. Over the course of the past few weeks, we've had readers regularly put forward the same request; "can you test Gigabyte's GTX 670 WindForce 3X?"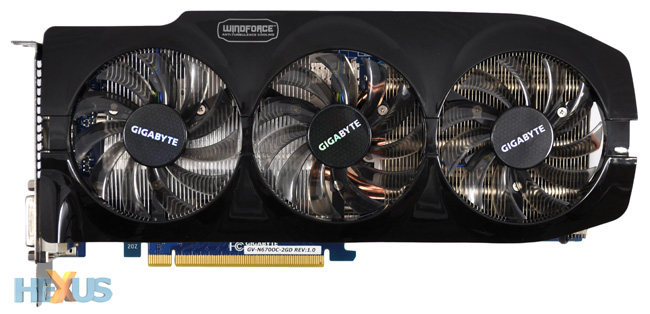 So for all those who asked, here it is, Gigabyte's take on NVIDIA's second-fastest single-GPU graphics card. Look familiar? It should, as it uses an identical design to the company's GeForce GTX 680.
What you're looking at is essentially Gigabyte's GeForce GTX 680 OC with a different core; at the heart of this beast, the GTX 680 chip (GK104-400) has been replaced with the pin-compatible GTX 670 part (GK104-325).
There's nothing inherently wrong with borrowing the GTX 680 PCB, but Gigabyte's card isn't well disguised. Look just above the PCIe interface and you'll see the sticker that's used to cover up the card's original 'GV-N680OC-2GD' branding. Applying a sticker is cheaper than creating a whole new PCB, but it can leave a sour taste in the mouth of the consumer and the sticker serves only to remind you of the top-end GTX 680 you could have bought.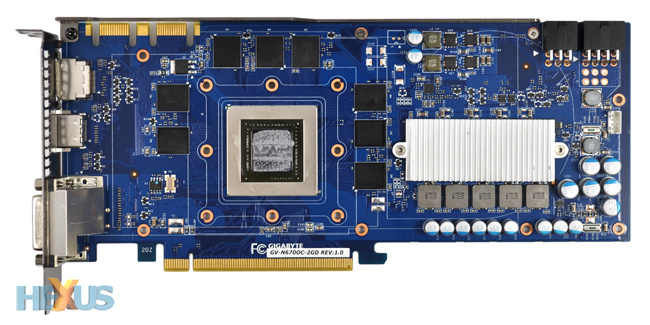 Still, this is a GTX 670 at its core and in borrowing the PCB from its best single-GPU solution, Gigabyte's card retains many of the 680's top-end features, including six-plus-eight-pin power connectors, two SLI fingers, 2GB of Hynix GDDR5 memory and a WindForce 3X cooler.
It is, for all intents and purposes, Gigabyte's GeForce GTX 680 OC with one less SMX unit - leaving seven instead of eight. That sees the GTX 670 WindForce 3X lose 192 processor cores, 32 special-function units, 32 load/stores, 16 texture units, one PolyMorph setup engine and four warp schedulers. But don't worry, the cuts sound bigger than they really are, and as we've seen in the past, the GTX 670 is almost every bit as potent as the full-fat chip it's derived from.
And, of course, the change to a second-rung GPU is reflected in the price tag. Gigabyte's GeForce GTX 680 OC is currently available at around the £420 mark, but this next-in-line GeForce GTX 670 WindForce 3X can be yours for £325 - almost £100 less.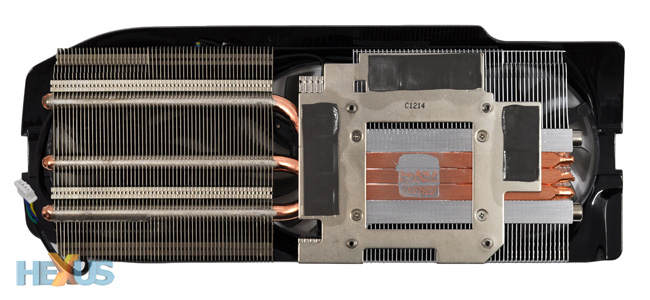 But bog-standard GeForce GTX 670s are now available for £290, so why even consider paying more for Gigabyte's card? Well, two reasons stand out; the custom cooler and the factory overclock.
As mentioned earlier, Gigabyte's employing a familiar dual-slot WindForce 3X cooler that consists of three PWM-controlled fans arranged above two blocks of aluminium fins and three 8mm-thick copper heatpipes that make direct contact with the GPU.
An elaborate solution, and one that goes hand-in-hand with the out-the-box overclock. As you know, a regular GTX 670 ships with a 915MHz core and 6,008MHz memory. Gigabyte jacks up the core frequency to a more potent 980MHz - with a GPU Boost clock of 1,059MHz - but opts to keep the frame buffer ticking along at reference speeds.
Gigabyte's core overclock is a touch conservative - we've seen numerous cards ship with speeds the right side of 1GHz - and the modest 980MHz core speed suggests that a faster 'Super Overclock' model may be in the pipeline.
There's no change in outputs, either, with Gigabyte sticking to NVIDIA's default selection of dual-link DVI-I, dual-link DVI-D, HDMI and DisplayPort. The standard ports cover all bases, and of course a single GeForce GTX 670 can drive up to three independent displays.