Power-draw, and concluding thoughts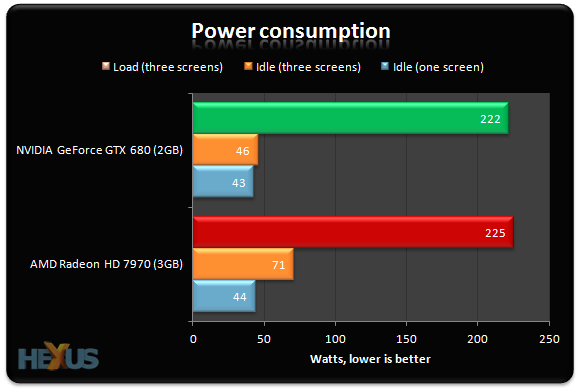 Here's the usual system-wide power-draw graph that you've seen many times before in HEXUS graphics card reviews. We use Batman: Arkham City to derive the full-GPU load.
The difference this time is that there's an extra bar denoting the power-draw when three screens are connected and run on the desktop. The GPUs' frequency increases from the one-screen default in order to drive three panels. Radeon HD 7970's power-draw increases from 44W (one screen) to 71W (three screens). GTX 680's is better, rising marginally. This isn't a deal-maker or deal-breaker, but do bear it in mind if the plan is to run three screens on a long-term basis.
Concluding thoughts
Purchasing the very best graphics card today means choosing between the GeForce GTX 680 or Radeon HD 7970. Both cards provide excellent performance at a full-HD resolution; indeed, a strong case can be made for saying they're overkill for monitors with a native 1,920x1,080 resolution.
30in, 2,560x1,600-resolution monitors remain expensive, and while popular technology sites such as HEXUS use them for evaluating graphics cards, the real-world implications aren't clear cut. Of greater import, perhaps, is seeing how these monster GPUs perform when tasked with running three full-HD monitors for truly widescreen gaming.
Knowing that a trio of said monitors costs about the same as either of these £400 cards and that it's easy to set both cards to push pixels to an effective 5,760x1,080-resolution display, our high-quality benchmarks show that the GeForce GTX 680 has the edge over the Radeon HD 7970. The results are a little surprising given how NVIDIA has engineered the card - one would assume a 256-bit memory bus, 2GB framebuffer and comparatively-low ROP throughput would cause it to stutter at such settings.
An examination of the frame-by-frame results with the three-screen setup indicates that the two high-end GPUs generally perform in a similar fashion: framerate drop-offs occur at about the same time and the overall gaming experience feels in sync.
Yet even these multi-billion-transistor chips cannot produce the gold standard of 60fps on three screens. AMD and NVIDIA know that the noisome effects of multi-sample antialiasing are hard to overcome if the GPU is required to spit out frames every 16ms (60fps) and this is why both companies have put concerted efforts into looking at alternative fast anti-aliasing techniques such as MLAA and FXAA... but that's an article for a different day.
The bottom line is that the very best graphics cards from NVIDIA and AMD have just about enough oomph to drive three full-HD screens for high-quality, high-resolution gaming. Building a system right now with the express aim of running this kind of three-screen setup, we'd pick the GeForce GTX 680 card, though the Radeon HD 7970 runs it a fairly close second.