Introduction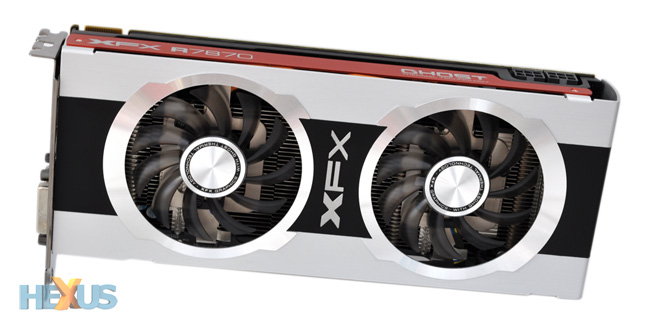 The GeForce GTX 680 and Radeon HD 7970 are the headline acts in PC graphics right now, but while they're both mighty-fine cards, few spend £400 or more just to savour the extra frame rate.
You've said it yourselves, cheaper cards are where the action really lies, and if you factor in performance, value for money and power efficiency, there's arguably nothing better for under £300 than AMD's Radeon HD 7870.
The reference design is strong, but we've been hoping to see an aftermarket card that's better in all areas. So far, we've been left somewhat disappointed - Gigabyte's 7870 OC proved to be a tad too loud for our admittedly fastidious tastes, and PowerColor's 7870 PCS+ ran a bit warmer than AMD's standard design.
In order to warrant the expected price premium, these customised cards need to be quicker, quieter and cooler than reference. The aforementioned didn't quite live up to that billing, but we're hoping to crack the case third time around by taking a look at a top-of-the-range card from XFX, the R7870 Black Edition.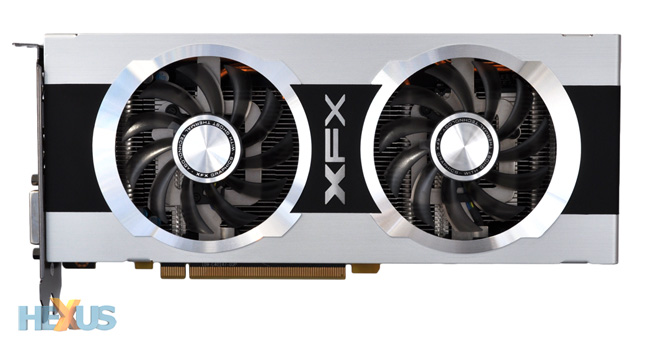 Priced at £299.99, this is XFX's best Radeon HD 7870 available and it costs £35 more than a card based on AMD's reference design. A 13 per cent bump in cost is no small amount, and the Black Edition card is edging dangerously close to Radeon HD 7950 territory, so what are you getting for that extra outlay?
There are no bundled games to speak of - in fact the bundle is little more than a driver CD and CrossFire bridge - so the weight of the swollen price tag rests solely on the card's ability.
A heavy burden to carry, but in appearance at least, the R7870 Black Edition makes a good first impression. We've seen a fair few Radeon HD 7870s in recent weeks, but the XFX card is arguably the best looking of the bunch. The 'Double Dissipation' design itself isn't particularly new - we've previously seen the same dual-fan principal applied to a Radeon HD 7970 - but it's still a visually attractive product.
The card measures just over nine-and-a-half inches in length, and, of course, is factory overclocked right out of the box. XFX's product range isn't short of Radeon HD 7870s, but here's a quick primer for those who are struggling to make sense of the various product names:
Core Edition - 1,000MHz core, 4,800MHz memory, single fan, model number FX-787A-CNFC, £270
Black Edition - 1,050MHz core, 5,000MHz memory, single fan, model number FX-787A-CNBC, £285
Double Dissipation Edition - 1,000MHz core, 4,800MHz memory, dual fan, model number FX-787A-CDFC, £290
Black Edition featuring Double Dissipation - 1,050MHz core, 5,000MHz memory, dual fan, model number FX-787A-CDBC, £300
Confused yet? We were, but it breaks down like this, you have a choice of single- or dual-fan configuration (Core or Double Dissipation) and can then have the card stock-clocked or overclocked (regular or Black Edition).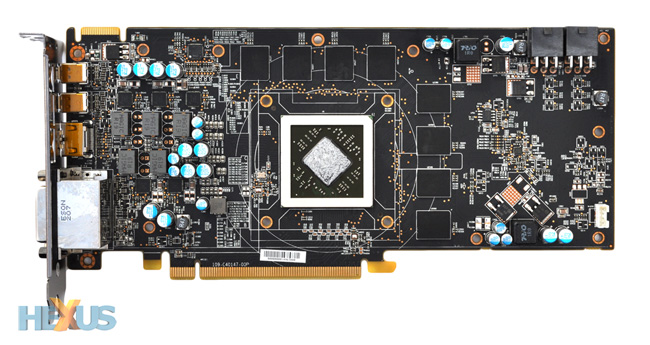 We've been sent the pick of the bunch - the FX-787A-CDBC - and, as stated above, the GPU is pre-overclocked to run at 1,050MHz (a bump of 50MHz) and the 2GB GDDR5 frame buffer is upped to an effective 5,000MHz (a bump of 200MHz). Somewhat unusually, XFX's core overclock is very modest, but the 5GHz memory is the quickest we've yet seen on a Radeon HD 7870.
Also included in this model is the 'Double Dissipation' cooler with 'Ghost Thermal Technology'. In a nutshell, this means the cooler consists of two fans and a quad-heatpipe heatsink that isn't completely enclosed behind the shroud. Instead, XFX's Ghost design attempts to have the cooler float over the board with plenty of gaps for hot air to exit the card's sensitive areas.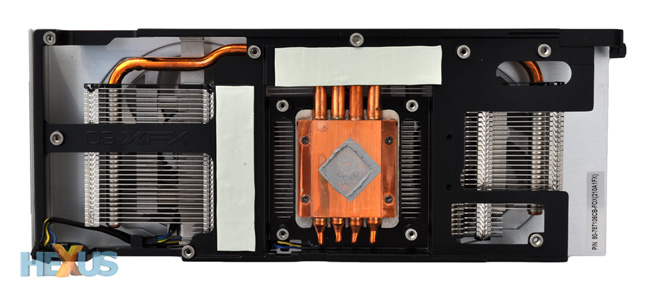 In an effort to keep noise levels in check, both fans make use of linear speed ramping and should run suitably quiet at all times. The card, then, looks good, it's overclocked, the dual fans should have no problem cooling the underlying 28nm GPU, and it ought to be quiet, too.
In keeping with AMD's reference design, power is supplied through two upward-facing six-pin PCIe power connectors, and a single CrossFire link is present for dual-card configurations.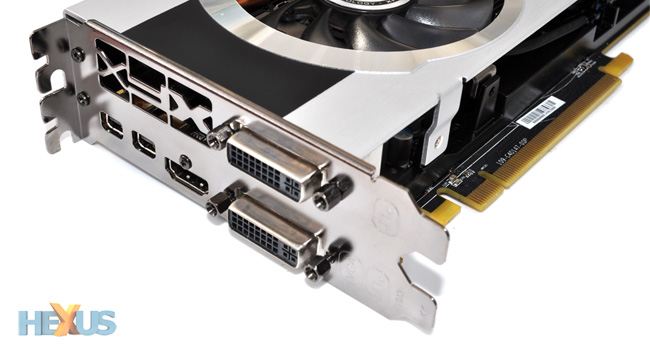 Around front, the I/O panel sports dual- and single-link DVI ports, HDMI and two Mini DisplayPorts. There's plenty of promise, but the £300 price tag brings with it some doubt. Let's find out if the XFX R7870 Black Edition is worth paying a little extra for.