Today AMD announced the launch of the AMD AppZone Player. This new software will enable hundreds of thousands of Android apps to be used on AMD equipped PCs. The AppZone also offers remote smartphone control. AMD has collaborated with BlueStacks, whose innovative "award-winning LayerCake technology" bridges Android and x86 application ecosystems. The AppZone Player software for AMD is downloadable here. Or you can just go to the AMD AppZone website and download any Android app, the first of which will also download the player app for you.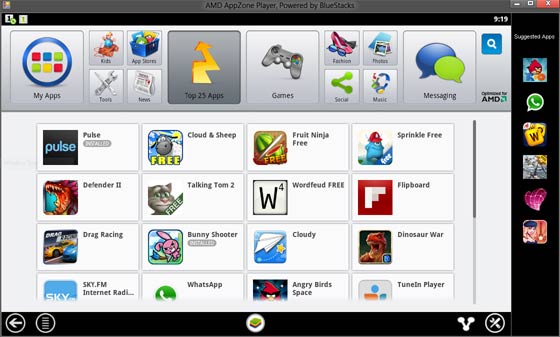 PC big screen bonus
Rosen Sharma, CEO of BlueStacks said "As the engine behind the AMD AppZone Player, we are providing a potent combination of award-winning software optimized for AMD's industry-leading hardware. Consumers can now enjoy their favourite mobile apps on the larger, more immersive screen of their PC". Developers will also benefit by gaining a larger market for their Android apps "With BlueStacks technology, app developers can rest assured their Android apps will run directly on Windows without any code change. We've made it easy for all." added Mr Sharma.
AMD power up
Manju Hegde, corporate vice president, Heterogeneous Applications and Developer Solutions at AMD said "BlueStacks' cross-platform innovation bridges the Android and x86 application ecosystems, providing new opportunities for developers and better experiences for users". Intel PCs can use an earlier version of BlueStack's software for Windows but the AMD AppZone player is designed and optimised for Radeon OpenGL drivers twinned with AMD GPU and APU technology.
Replying to an email from Wired, Mr Sharma said "This helps AMD leapfrog Intel by making Windows 8 more attractive on their tablets and PCs. We've worked closely together to optimize the performance of the apps for AMD's unique 'graphics and computing on one chip' setup. The result is awesome - mobile apps run beautifully on their machines."
Cloud Connect
Cloud Connect allows a user to sync apps and SMS between a PC and an Android device. The program is supposedly easy to use but requires a user to set up an account and run through a connections wizard to get started.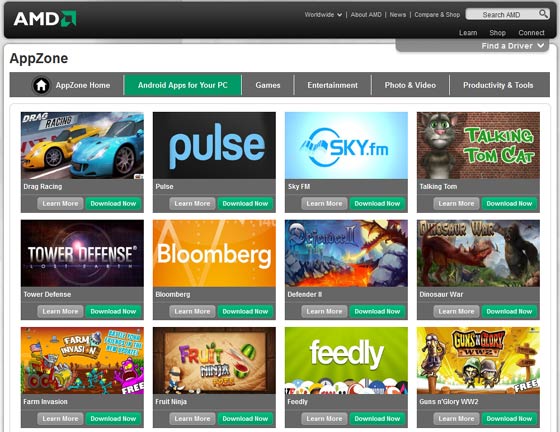 Android app bonus
These Android apps will be probably most welcome on the upcoming Windows 8 touch enabled PCs and tablets, where the software market is currently quite small. So far there have been a lot of Intel and ARM powered Windows 8 devices announced, but not so many with AMD chips. Wired says that "according to BlueStacks, the two companies are already in talks with PC manufacturers like HP to get the AppZone preloaded onto future AMD devices". The hope is that the AppZone Player on an AMD touch tablet device could make it a more attractive gadget compared to a similar Windows 8 powered Intel device with access to just 2,000 touch friendly apps from the Windows Store.