The Android official blog has announced the passing of a huge milestone for the Google Play app store. There have now been over 25 billion apps downloaded from Google's official store for Android apps. If you own an Android device you might want to take advantage of the 25p sale on Google Play, launched to celebrate the passing of the 25 billion download mark.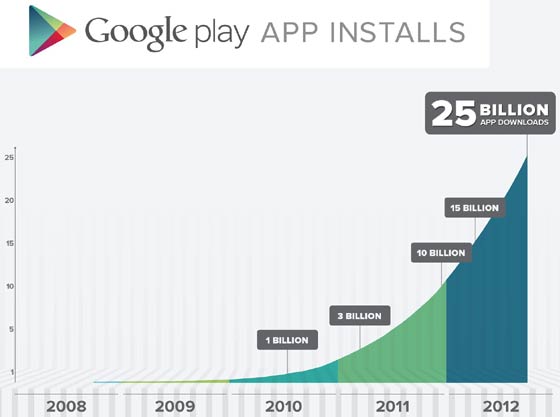 The Android blog says "We've now crossed 25 billion downloads from Google Play, and to celebrate we're offering some great discounts for the next five days." Surely it should have been 25 days... The blog informs us "Every day you'll be able to choose from a collection of apps from some of the world's top developers including Gameloft, Electronic Arts, Rovio, runtastic, Full Fat and more. And all for just 25 cents." That's 25p for UK punters, I've confirmed on the Google Play store, screen shot below.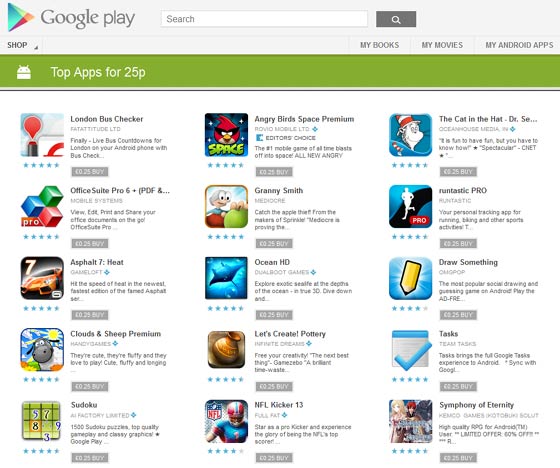 The selection of apps on this first day leans heavily towards games and entertainment with only four of the fifteen choices being utility apps. Hopefully, for Android fans, there will be some more attractive juicy morsels to choose from on subsequent sale days. It's certain that Google has plenty of apps to choose from for the promotion. Google Play is home to an enormous library of 675,000 apps and games.
The celebration sale won't just encompass apps and games. "We'll also be offering some special collections like 25 movies you must own, 25 banned books, 25 albums that changed the world and our 25 top selling magazines, all at special prices." Indeed today there is a special collection of 25 bestselling books on offer at 99p each. Not 25p each, nor 25 books for 99p in total, unfortunately.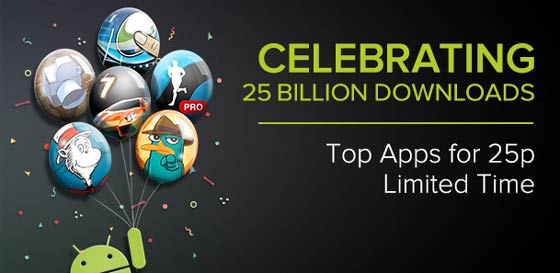 The Android blog goes on about how 25 billion is a big number, we all know that. However Apple surpassed the 30 billion downloads mark in June this year. The third place runner in the smartphone app race has a long distance to go, to catch up with these two huge app markets, but numbers aren't everything. I think this is illustrated by the mundane selection of "top apps" available for 25p today on the Google Play store.