Today Google and Hewlett Packard took the wraps off HP's first Chromebook attempt and it's available straight away if you live in the USA, via HP's online store, priced at $329.99. The HP Pavilion Chromebook stands out from the "crowd" by being the largest screened Chromebook yet – with a 14" diagonal HD BrightView LED-backlit (1366 x 768) display. Google's product page proclaims "Enjoy the big screen"! However UK pricing and availability aren't indicated, the web site says "Available in select countries" and the country list has just one entry, the US of A.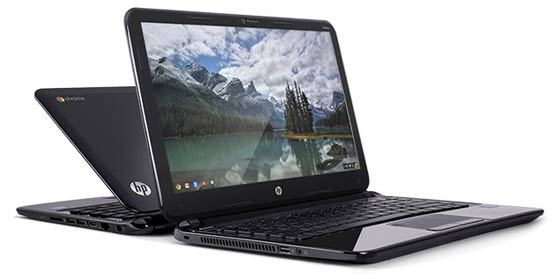 There are currently four Chromebooks listed on Google's Chromebook devices page, including this new HP model, and the range of components that constitute them is quite wide. However until this HP laptop arrived they all had in common a screen of around about 12-inches in diagonal.
I've made a quick comparison table to compare the HP Pavilion Chromebook to the other two recent models
HP Pavilion Chromebook $329
(equivalent to £210 before VAT etc)

Samsung Chromebook $249 (£229)

Acer C7 Chromebook $199 (£199)

14" diagonal LED-backlit (1366 x 768)
0.83 inches thin – 3.96lbs/ 1.8Kg
4.5 hours of battery (removable)
Intel® Celeron® 847 (1.1 GHz )
100 GB Google Drive Cloud Storage with 16GB SATA SSD
Intel 802.11a/b/g/n (2x2); Bluetooth and Ethernet
HP TrueVision HD Webcam with integrated microphone
3x USB 2.0
1 HDMI; 1 RJ45; 1 headphone-out/microphone-in combo

11.6'' (1366x768) display
0.7 inches thin – 2.42 lbs / 1.1 kg
Over 6.5 hours of battery
Samsung Exynos 5 Dual Processor
100 GB Google Drive Cloud Storage with 16GB Solid State Drive
Built-in dual band Wi-Fi 802.11 a/b/g/n
VGA Camera
1x USB 3.0, 1x USB 2.0
HDMI Port
Bluetooth 3.0™ Compatible

11.6'' (1366x768) display
1 inch thin – 3 lbs / 1.4 kg
3.5 hours of battery
Intel® Celeron™ 847 (1.1GHz)
100 GB Google Drive Cloud Storage2 with 320GB Hard Disk Drive
Dual band Wi-Fi 802.11 a/b/g/n and Ethernet
HD Camera
3x USB 2.0
1x HDMI Port, 1x VGA port
You can see the HP Pavilion Chromebook offers a permutation of specs from its fellow budget minded Chromebook competitors. Whether it offers a successful combination will be decided by the market. Is its price premium worth paying for the larger screen? The Acer C7, powered by the same architecture is quite a lot cheaper. If you want the best portability from thinness, lightness and battery stamina it may be better going for the Samsung Chomebook, which is $70 less and offers the same SSD/Cloud storage combination.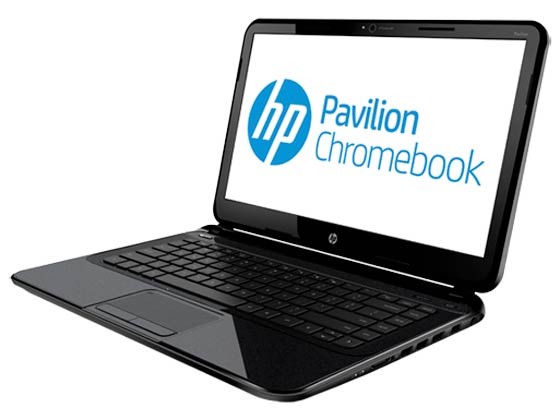 Lenovo is expected to join the Chromebook competition shortly so there will be even more choice for those interested in Chromium on the move. However things are going to get a lot more interesting for consumers if the Chrome Android tease on the Google Campus in California pans out to be some sort of merger between Chrome OS and Android. If I was interested in a Chromebook I think I would wait until after May's Google I/O event, perhaps by then everyone will want touch screen Chromebooks...