We'd all love a GeForce GTX 670, 680 or 690 (who wouldn't?), but these extreme GPUs are for many a precursor to the more reasonable solutions that follow.
Knowing that mainstream users and HTPC enthusiasts will be wanting to reap the benefits of the latest Kepler architecture, NVIDIA is this week bringing its 28nm GPUs to the mainstream with the launch of a $99 retail product dubbed the GeForce GT 640.
Making use of the previously OEM-only GK107 core, this baby GeForce 600-series solution comes armed with two SMX units, providing 384 cores, 32 texture units and 16 ROPs. The card's make up is similar to that of the mobile GeForce GT 640M, but NVIDIA's raising the TDP of the desktop derivative to 65W to enable an enhanced core clock speed of 900MHz.
The 118mm² chip packs 1.3 billion transistors and many of the Kepler architecture's multimedia capabilities, but it could become hamstrung during intensive 3D tasks by a 2GB DDR3 frame buffer that's clocked at a limited 1,782MHz and hooked up via a 128-bit interface. Whether or not NVIDIA partners will introduce GDDR5 variants remains to be seen, but there should be a good selection to choose from, with EVGA already confirming that it will launch both single- and dual-slot GT 640 designs in the coming weeks.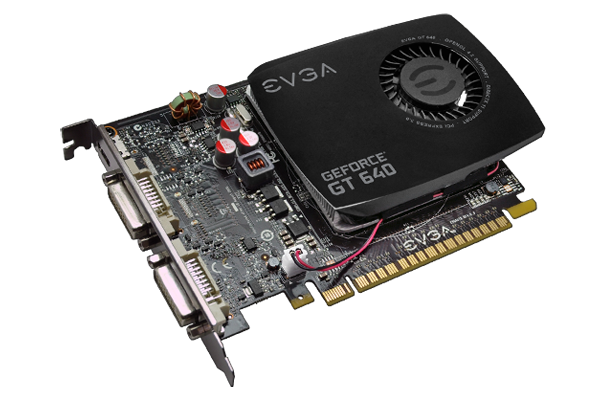 Passively-cooled designs are certainly a possibility, but the initial offerings all appear to be fan-cooled and come in a variety of shapes and sizes. Scan Computers already has a wide range of GeForce GT 640s available with prices starting at under £80.
Source: GeForce.com