Taiwanese manufacturer Sparkle has announced that its GeForce GT 240 graphics cards - including the OC and Calibre editions - are to be bundled with a free 3D Vision pack for a limited time.
Sounds like a stonking good deal at first, but it turns out the bundle doesn't consist of the NVIDIA 3D Vision hardware you're probably familiar with. Instead of providing NVIDIA's active-shutter glasses - which, for free, would have been too good to be true - Sparkle reverts to 3D technology of old and bundles its card with a pair of anaglyph lenses.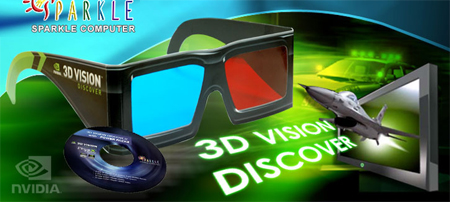 Sparkle calls its red/cyan stereoscopic lenses the "3D Vision discover glasses", perhaps suggesting that you'll use them and discover you'll need to fork out for active-shutter alternatives in order to feast your eyes on the full NVIDIA 3D Vision experience.
Nonetheless, in addition to the glasses, Sparkle's bundle includes NVIDIA's 3D Vision drivers, 3D Movie and Video software and four free games: Half-Life 2: Death Match, Half-Life 2: Lost Coast, Portal and Peggle Extreme.
Useful if you're thinking about dipping your toe into the 3D waters, perhaps? Sparkle's bundle should be available now, and featured GeForce GT 240 models can be identified by a "3D Vision and Power Pack Inside" label on the box.