If you're in the market for a low-profile NVIDIA GeForce graphics card for your next HTPC build, there's usually a good chance Taiwanese manufacturer Sparkle has you covered.
Hoping to appease the needs of silent computing fanatics, said manufacturer has today expanded its HTPC-friendly range with a trio of "Low Profile Silent Series Graphics Cards" solutions.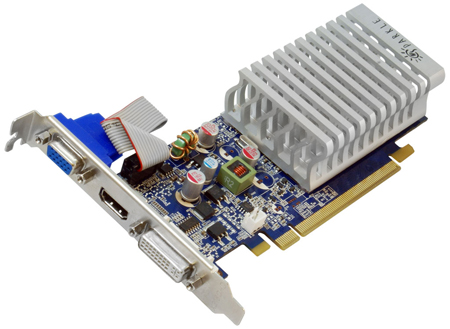 Starting off the new introductions is a passive take on NVIDIA's entry-level 40nm GeForce 210. Keeping to reference speeds, the card features a GPU clocked at 589MHz and 16 stream processors clocked at 1,402MHz. The 512MB of DDR2 memory connects via a 64-bit interface and comes clocked at a slightly-lower-than-reference 800MHz.
The card retains NVIDIA's default VGA, HDMI and DVI outputs, but replaces the fan with a single heatsink that'll help achieve that goal of silent computing.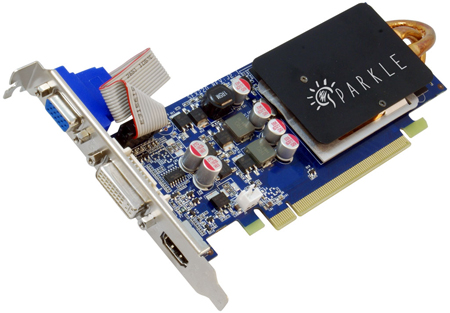 Offering a little more potency, Sparkle's GeForce GT 220 and GeForce GT 240 take a similar, low-profile and fan-less approach. The cards make use of two chunky copper heat pipes at the front of the PCB, wrapping round into a long heatsink at the rear.
The GeForce GT 220 features a GPU clocked at 625MHz, 48 stream processors clocked at 1,360MHz and 1GB of DDR3 memory connected via a 128-bit interface and running at 1,400MHz.
Topping off the range, the GeForce GT 240 makes use of a GPU clocked at 550MHz, 96 stream processors at 1,340MHz and the same 1GB of memory hooked up to a 128-bit bus and clocked at 1,400MHz.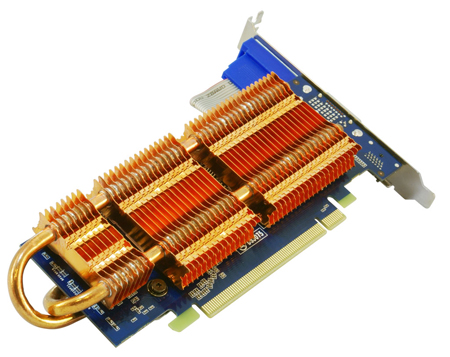 Featuring fourth-generation PureVideo HD hardware decoding and 7.1 digital surround sound via HDMI from an on-board controller, as well as support for DirectX 10.1, PhysX and CUDA, the cards look like decent options for the HTPC crowd.
There's sadly no mention of pricing or availability, though.