With the official announcement of AMD's Trinity APU expected May 15th, with reports that much of the APU line-up is now shipping, it's about time we placed our hands on some leaked benchmarks, which, with thanks to some Korean slides, we now can.
Benchmarks that have seen the light of day are for the firm's high-end mobile APU, the A10-4600M, which targets a TDP of 35 watts. It's revealed that the chip will feature two 'Piledriver' modules, or quad-core as AMD likes to put it, 4MB cache and will clock in at 2.3GHz with a TurboCore of 3.0GHz.
Out of interest, AMD's previous high-end 35W mobile APU was the A8-3520M, which featured a clock of only 1.6GHz with a TurboCore of 2.5GHz and so, even if Piledriver hasn't been significantly improved from its originating Bulldozer design, we're very likely to see some of the improvements in processor performance that AMD has been claiming. The APU as a whole also includes a PCI-Express 2.0 and dual-channel DDR3 1600MHz controller.
It wouldn't be an APU without a graphics-core and the A10-4600M features a Radeon HD 7660G, based on the older VLIW4 architecture, featuring 384 stream processors with a core speed of 685MHz. The Radeon HD 6620G, found in the A8-3520M, actually featured 400 stream processors, however ran at a much lower 444MHz. Aside from receiving minor architectural adjustments developed for the 6900 desktop-series, the 7660G has also received the new video processing engine and multi-display connectivity found in the Southern Islands GPU line-up.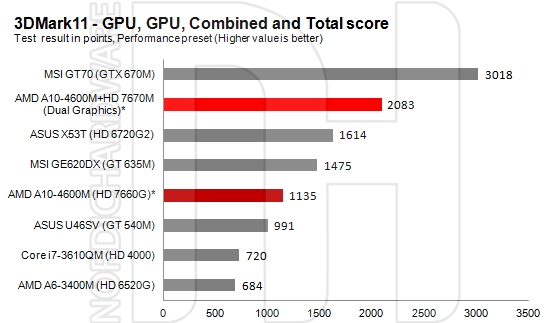 3DMark11 benchmarks reveal that AMD's 35 watt A10-4600M and its HD7660G graphics-core outperform the comparable, 35 watt Intel Core i7-3610QM, with its HD 4000 graphics-core, by 58 per cent.
What's also most impressive and makes AMD's offering stand out from the crowd, are the performance gains achievable when using what is essentially Crossfire to join forces with a discrete graphics card, which AMD dubs 'Dual Graphics'. When paired with a relatively low-end and low-power HD 7670M, with similar performance to the 7660G, the A10-4600M is able to achieve a performance gain of 84 per cent. That's quite the efficient boost in performance, given that much of it comes from the already designated 35 watts of the APU.
All that's left now is to see how Trinity's Piledriver CPU matches up against the Ivy-Bridge alternative.