Introduction
There's nothing fishy about this man's hardware, despite the codenames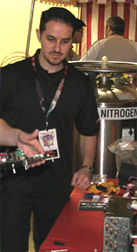 John 'badda' Bruno gets down with the LN2 and the world's first 512MB ATI graphics card.
This image (possibly) © Copyright 2005 AnandTech, Inc.


Pictures of John Bruno, ATI ASIC Design Manager for their Chipset Division, are fairly thin on the ground. Using the mighty Google and some serious search-fu gives you just two. This one shows him giving enthusiast-world famous overclocker Sami Makinnen some assistance at an event designed to promote ATI core logic and its 512MiB RADEON X850 Series graphics card. Those two pictures and the events they're attached to are telling. John Bruno loves his hardware and his overclocking, and his job inside of ATI lets him indulge both and get paid for it.

Having joined ATI from General Electric in the summer of 1996, John's been part of the team that's launched products from the very first mobile ATI graphics part - Rage Mobility M1 - right the way through to RS480 and RS482, the most recently released ATI core logic parts targetted directly at the core HEXUS readership, you the PC enthusiast. His day job includes working on ATI's latest ASIC designs for core logic - northbridge chips as well as broader aspects of platform technology - and working alongside the board teams that turn his team's designs into working products you can use.

He's one of the guys at ATI responsible for defining their core logic roadmap of future projects, so if you use a high-end ATI-based board now or in the coming future, John'll have had significant input. In short, he's the man to talk to at ATI if you want to talk chipsets. So we did! I had the chance to chat with John one afternoon recently as he took time out from a day spent playing with silicon, deep inside the depths of an ATI building in cool Canada.

We talked about things we shouldn't have talked about, but plenty of things I can relate back to you so you can get an insight into John, what his team does and where ATI are headed with core logic. They have a grand plan with the lofty goal of dethroning NVIDIA from the top of the enthusiast mainboard space. John wants you to be buying ATI-based boards for your high-end and overclocking systems, instead of nForce4, and he outlined why he think that'll happen.

We talked gates and transistors, silicon shrinks and hardware description languages and most importantly of all, ATI's fish and chips. Read on to find out why ATI's gone all culinary on us, following their last foray with food.