Lenovo has launched a new pair of Android tablets under its Yoga branding. There is an 8-inch and a 10-inch version of the new Yoga tablet available. Lenovo says they offer three modes of usage; hold, stand or tilt. These tablets have previously been heavily trailed as "A better way," so do they live up to such a bold statement?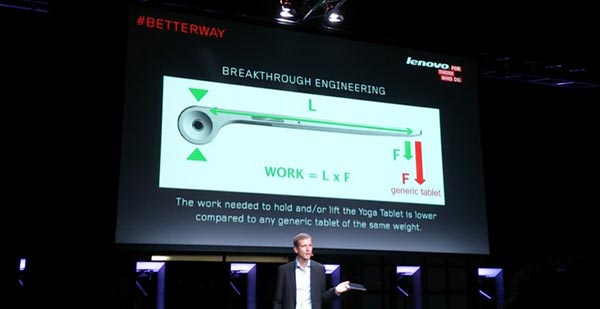 Lenovo says the new pair of Yoga tablets are "Not just redesigned—Completely re-engineered. A tablet unlike any other." However they do look a lot like a previous Sony tablet design, the Sony Tablet S.
The main feature which stands out as 'unique' in the new Yoga tablets is the cylindrical side grip which offers comfort in hold mode, a steady in stand mode and balance in tilt mode. The extra bulk of the grip is also used to good effect to provide a larger battery - Lenovo claims up to 18 hours of battery life for the new Yoga tablets. The firm even goes as far as suggesting that when your other portable devices are running low on juice – why not top them up by charging them from your Yoga tablet USB port.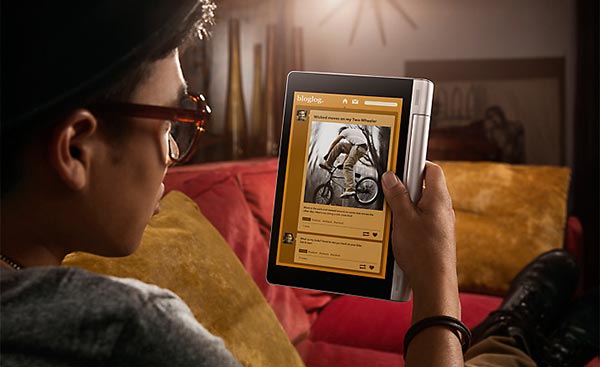 Lenovo Yoga Tablet 8 / Yoga Tablet 10 specs
Screen: 8-inch 1280 x 800 pixels IPS panel / 10-inch 1280 x 800 pixels IPS panel
Processor: MTK 8125 Quad-core ARM Cortex-A7( 1.20GHz 533MHz 1MB)
RAM: 1.0GB LPDDR2 800 MHz
Storage: 16GB, plus up to 32GB micro-SD card storage
Cameras: 5.0M rear and 1.6M front cameras
Networking: 11.b/g/n Wi-Fi Wireless, Bluetooth Version 4.0, optional 3G HSPA+ connectivity, GPS
Ports: micro-USB
Sound: Stereo speakers, audio jack
Battery life: up to 16 hours for the Yoga Tablet 8 / up to 18 hours for the Yoga Tablet 10
OS: Android 4.2.2
Physical: device tapers to 3mm thickness, weighs 401g (8-inch) / 605g (10-inch)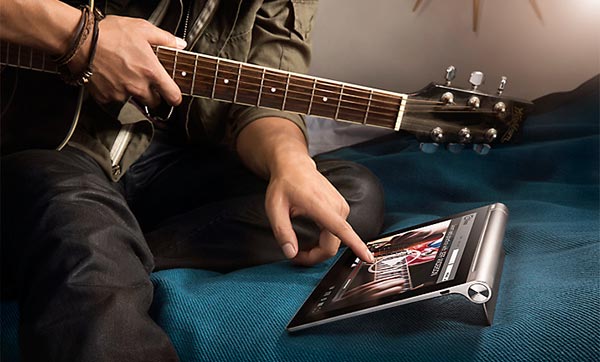 A custom made magnetic keyboard accessory is also being made by Lenovo. This "instantly transforms your Yoga Tablet into a productivity machine," and also doubles up as a magnetic cover to protect your device in transit. Unfortunately at this time the cover is available for the 10-inch Yoga only, also it's not in stock anywhere yet.
The Yoga Tablet 8 starts at £199.99 and the Yoga Tablet 10 starts at £249.99. The keyboard cover for the Yoga Tablet 10 is "coming soon", however I only have the Euro pricing for this, which is €99. In the UK you can buy these new tablets from Argos, John Lewis, Currys, PC World, Amazon and Very. If you want a 3G version, they are a reasonable £30 more expensive than the Wi-Fi only models.