Everything Everywhere (EE) the combined T-Mobile and Orange 4G/LTE mobile operator has tweaked its data allowances for mobile broadband customers. Since these are tweaks in the customer's favour and there is no 4G competition as yet we can assume users haven't been flocking to take EE up on its mobile broadband offerings.
EE now offer a choice of three 18 month mobile data plans as below (including a HUAWEI E392):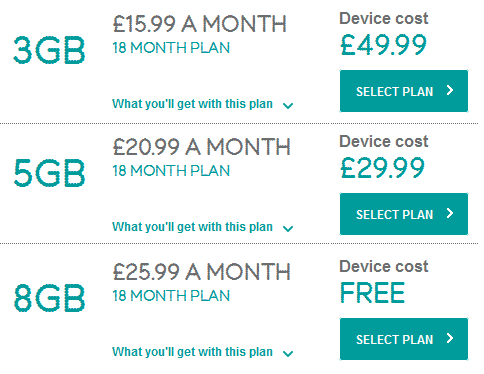 All the data plans come with EE Film which is a movie download service which, while using your fast 4G connection, doesn't use up your data allowance. Currently you can get one film per week for free. Also all EE 4G data plan subscribers get free Wi-Fi access at the UK's plentiful BT hotspots.
The new data allowance bumped 18 month contracts come with more data than previously offered by EE. The £15.99 plan used to just allow use of 2GB of LTE data during your month, now it comes with 3GB. The £20.99 plan is bumped to 5GB, where it was 3GB previously. Finally the £25.99 per month plan is boosted from 5GB to 8GB of LTE data. The Huawei E392 4G modem is a paid for device on the two cheaper plans but free on the £25.99 per month contract. You could also choose a Mi-Fi device, the Huawei E589, at the same price.
The 4G speeds provided by EE are dependent "on location and number of users" but potentially five times faster than 3G they say. The five times bit sounds good but other UK providers have HSPA and DC-HSPA capability which is also much better than 3G. Pocket Lint tests of the new EE 4G network attained speeds of between 21 and 34Mbps standing still in a good signal coverage area.
EE have said that existing contract holders will be upgraded to the new allowances automatically. The average home's fixed line broadband usage is currently at 23GB per month so not many people are going to replace their landlines with any of the EE data plans currently on offer.