At the end of last week, Motorola announced that it would be holding a press event on September 5th at 8pm. Could it be that the firm simply forgot that Nokia has already been pencilled in on the same date for quite some time?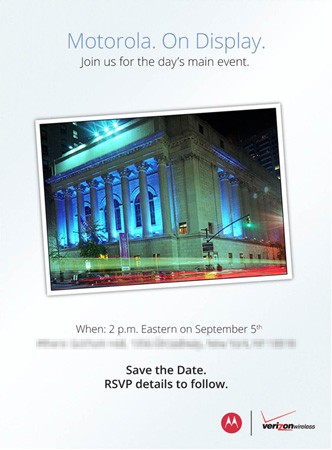 Judging by Motorola's press invite, which quotes "Join us for the day's main event." we suggest quite the opposite; it's widely believed that in the morning of September 5th, Nokia will be revealing a new line-up of Lumia devices, with some likely featuring PureView and more importantly, Microsoft's new Windows Phone 8 OS, which has been receiving a fair bit of attention thanks to its close pairing with the standard Windows 8 kernel.
It make sense then, that Motorola, a firm now owned by Google, would be obligated to act as a hardware envoy for the software giant and, respond in kind to the close pairing between Microsoft and Nokia. Exactly what products can we expect to see from the firm? A new Droid RAZR? If Google's claims that it'll be running Motorola as a completely separate entity are true, it's even remotely possible that we could see a Windows Phone 8 device from the firm, though this seems rather unlikely.