As we expected the Samsung Galaxy S3 mini was unveiled yesterday. We now have the full list of specs and some nice new pictures of the "compact version of the flagship smartphone GALAXY S III". The Samsung Galaxy S3 has been a fantastic seller for Samsung and while it is still suitable for one handed operation a more compact version was certain to be popular among Samsung Galaxy fans with smaller hands. However earlier rumours suggested, as well as a reduced physical size, Samsung would cut the tech spec of the Galaxy S3 mini in some rather drastic ways...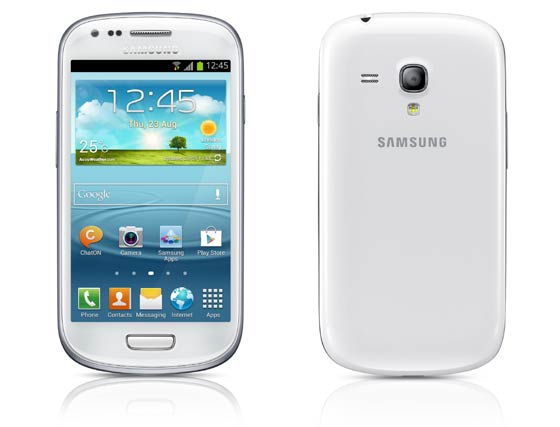 JK Shin, President of IT & Mobile Communications at Samsung said of the new compact smartphone; "The GALAXY S III introduced a new concept of smartphone that has proven hugely popular around the world. We're now delighted to bring its revolutionary design, intuitive usability and intelligence to the GALAXY S III mini in a more compact form." The more compact form is; 121.55 x 63 x 9.85mm, weighing 111.5 g and sporting a 4-inch screen. Compare this with the full-fat Samsung Galaxy S3 at 136.6 x 70.6 x 8.6mm, weighing 133g and with a 4.8 inch screen.
Let's look at a table comparing the key specs of the two smartphones...
Design

Samsung Galaxy S3 mini

Samsung Galaxy S3

Dimensions

121.55 x 63 x 9.85mm

136.6 x 70.6 x 8.6mm

Weight

111.5g

133g

Screen

4-inch Super AMOLED

480x800px, 233ppi

4.8-inch Super AMOLED

720x1280px, 306ppi

OS

Android 4.1

Android 4 and 4.1

CPU

Dual core 1GHz

Mali 400MP graphics

Quad core 1.4GHz

Mali 400/MP4 graphics

Memory

1GB RAM, storage of 8GB + microSD

1GB RAM, 16/32GB storage + microSD

Camera

5mp back and VGA front

8mp back and 1.9mp front

Connectivity

Wi-Fi a/b/g/n, Wi-Fi HT40, GPS, NFC, Bluetooth 4.0

Wi-Fi a/b/g/n, Wi-Fi HT40, GPS, NFC, Bluetooth 4.0, 4G option

Battery

1,500 mAh Li-Ion

2,100 mAh Li-Ion
As you can see from the above table there are quite a few reductions to the spec of the Samsung Galaxy S3 mini, not just the size and weight. Also I would say the S3 mini doesn't actually live up to its mini moniker. It's not a small, it's a regular. The previous mini from Samsung was a much smaller 109 x 58 x 12mm. Take a look at the size comparison I quickly sketched up below. (Yes, corners should have been more rounded!)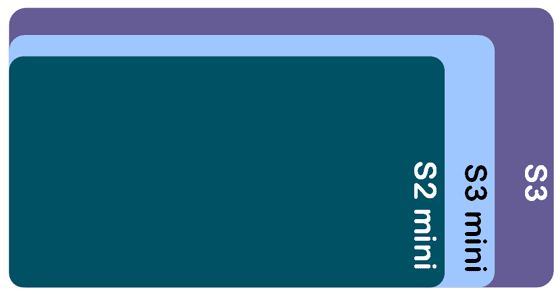 The Galaxy S3 mini is now available for pre-order, with delivery scheduled for 2nd November. I've found an example at Phones 4u for free on a 24 month contract with 300 minutes, unlimited texts and a 250mb/1GB data/Wi-Fi offering for £25 per month (Vodafone). You can get the actual full sized flagship Samsung Galaxy S3 for free on a £21 per month contract with a very similar allowance from Mobiles.co.uk (T-Mobile, who allow unlimited browsing after your data allowance runs out). If you do really like it, the S3 mini will probably come down in price when it has been around a month or two, as is usual with technology products.