A batch of press invitations has come from Samsung which hint heavily towards the unveiling of a Samsung Galaxy S3 (or S III) mini. The South Korean industrial giant is holding an event in Germany on 11th October (next Thursday) and has issued invitations with the headline "SO GROSS KANN KLEIN SEIN" which translates roughly as "Small can be so great". The event takes place in the rather low key setting of the Samsung Mobile Store in Frankfurt.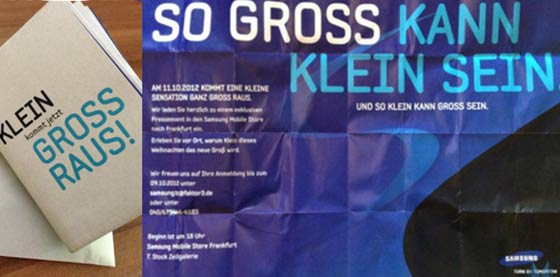 Other sites have translated the headline and subheading on the invite as "something small will be really big" and "get ready for a little sensation" so unlike me, they must have a knowledge of German beyond how to type it into Google Translate. Sharp eyed readers will also notice the invite has the familiar Galaxy S brand watermarking in the background.
What constitutes a Samsung Galaxy S3 Mini?
It is speculated that the Galaxy S3 mini would be a smaller brother to the extremely popular Samsung Galaxy S3 which is quite a large, hand-filling device featuring a 4.8-inch screen. As well as the obvious screen reduction, to make the smaller brother a "mini" version, there would be another few rumoured cuts. According to Phones Review the snips will be in the screen size/res (reduced to 4-inch, 480x800 pixels), the CPU (reduced to dual-core) and the camera (reduced to 5 megapixels). On the positive side of things it's likely the new mini Galaxy will come packing Android Jelly Bean and fit in your wee mittens a little bit better. When Apple launched the iPhone 5 recently they did explain that it was a single-hand-operation-friendly design. Now here is a new single-hand friendly Galaxy S3 variant to fit that requirement.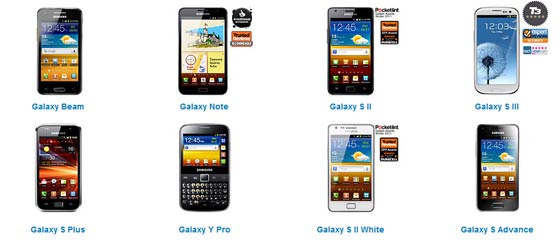 A small selection of Galaxy smartphones
It does look like Samsung are happy to pepper the market with smartphones in lots of sizes and form factors hoping that anything will stick. Some people might say Samsung have a scatter gun approach; producing Galaxy devices with large and small screens, hard and soft keyboards, touch and stylus control, budget and premium prices, even one with a built in projector. Perhaps this strategy does fit consumer needs well. More choice is good, usually.