The Samsung Galaxy Beam is now available to buy in the UK. The 15-lumen projector and smartphone combination was first shown at the Mobile World Congress in February this year. Users will be able to project HD images, videos and other content onto flat surfaces such as walls and ceilings to enjoy "big screen" presentations up to 50 inches wide at a distance of two metres.
This innovative Android powered handset has the following key specifications;
Dimensions: 124 x 64.2 x 12.5mm
Weight: 145g
Display: 4.0 inch 480x800 pixel display
Projector: 15 Lumen DLP, works at a distance of 2m to present images up to 50" diagonal, nHD resolution (640x360 pixels)
Battery: 2,000mAh allows presentations lasting up to 3 hours with no extra power supply
Camera: 5MP with flash, 720p video recording, front facing 1.2MP camera
Processor: dual core 1GHz Cortex-A9
Networks: HSPA 14.4/5.76 850/900/1900/2100, EDGE/GPRS 850/900/1800/1900, Wi-Fi, Bluetooth 3
Memory: 768MB RAM, 8GB user storage and MicroSD support
Software: Android 2.3.6 Gingerbread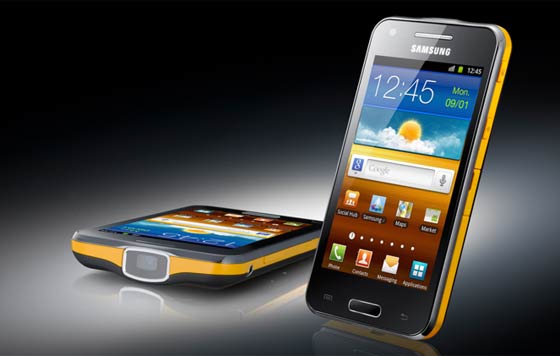 "Too-cool-for-school yellow racer-strip accent perfectly expresses your individual style
- lets everyone know it's no ordinary smartphone!" Says Samsung.
Samsung suggest that using the Samsung Galaxy Beam on the following occasions will "transform, excite and inspire everyone around you." Some of the suggestions are a bit whacky; Samsung brain storming seems to have gone out of control. Basically you can use it just like any portable projector but you use the data sources from the smartphone rather than laptop.
Personal theatre - movies
Fun group sharing - your own pictures and videos
Mood generator – project onto the walls as you shoot video, ambient mode to decorate your room
Outdoor entertainment – liven up a picnic!
Professional presentations – sharing office docs in a presentation
Educational tool – OHP in your pocket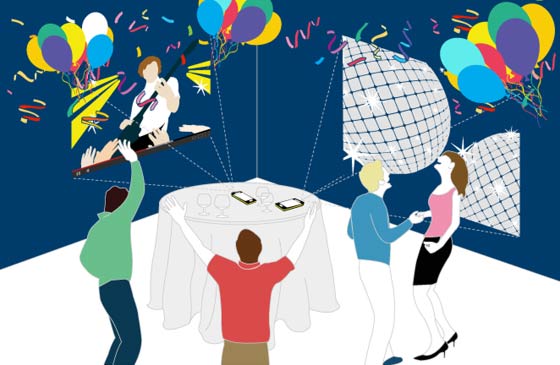 Terrible graphic from Samsung illustrating the mood generator functionality.
The Samsung Galaxy Beam is available SIM free for £385 at Expansys. Alternatively you get it for free on a £31 per month 24 month contract at CPW.
The VP of Samsung UK and Ireland Telecommunications and Networks Division, Simon Stanford, said of the Galaxy Beam; "It's the kind of device you won't find anywhere else - a high definition projector within a standard sized smartphone - and is great for people who want to watch movies, show photos to friends or need to give a presentation while they're out and about."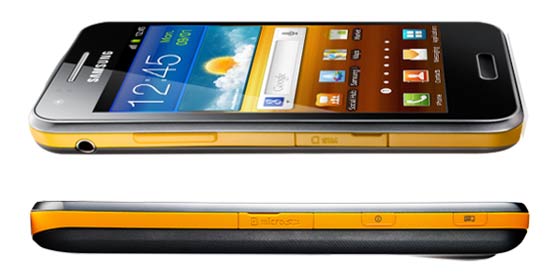 The Galaxy Beam is a svelte 12.5mm thick despite the built in projector.
It's good to see Samsung try another unlikely combination to try and make a hit. It took a chance on the Galaxy Note phablet form factor whose success has taken a lot of people by surprise. The Galaxy Beam may also be a surprising success. My teenage son at university bought a pocket sized projector a few weeks ago and I thought it was an odd purchase at the time. Does Samsung have another innovative winner of its hands?