Samsung GALAXY S III Part 2
It is now possible to share screen content with televisions or other devices over WiFi in features known as 'AllShare Play' and 'Group Cast' respectively. Group Share also allows participants to comment and make changes to shared content.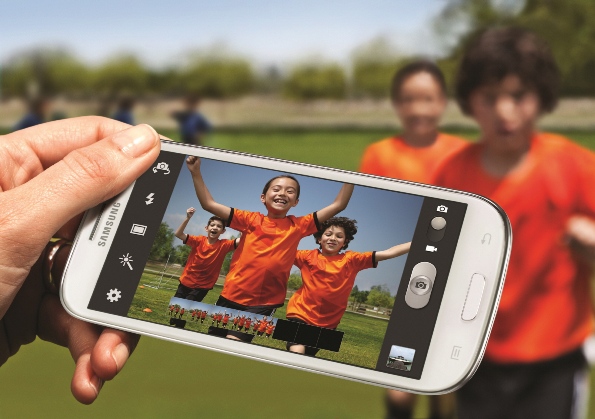 The rear camera has remained at 8-megapixels, however the sensor has been upgraded to a low-noise BSI variant. The camera is now backed by a dedicated image processor, allowing for simultaneous 30fps HD video recording and image capture, with a zero-lag shutter time. Other features include the ability to take up to 20 burst shots at 3.3 shots per second, with a new software feature dubbed 'Best Photo', which will automatically extract the 'technical' best photo from a burst of eight. The front facing camera now also supports HD recording and features a 1.9-megapixel BSI sensor.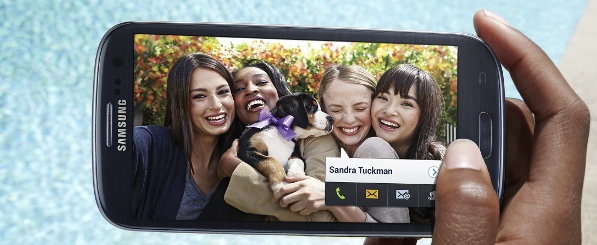 Samsung went on to demonstrate other features of the software, with a focus on images. 'Face Zoom' allows users to focus directly on the faces in an image, whilst 'Social Tag' and 'Buddy Share' allows identification of friends, with functionality to quickly share images with those in the frame. Enhancements to multitasking led to a demonstration of a minimised video playing whilst browsing the web and sending a text, a feature Samsung calls Pop-Up and Play.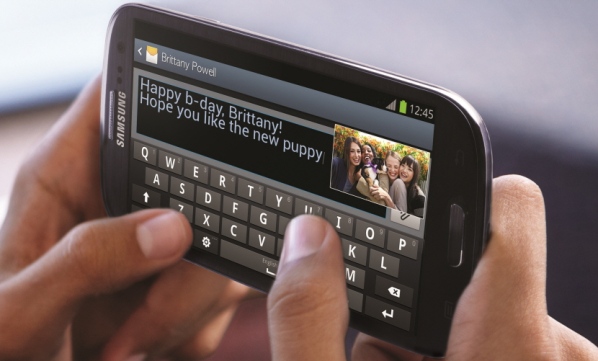 It could be said that features such as 'Group Share' are business oriented; likewise, Samsung has enhanced the security of business elements such as Microsoft Exchange through improved encryption and allows for enhanced device administration. In support of the Bring-Your-Own-Device to work initiative, Samsung is supporting the installation of secure virtual work environments on-top of the S III.
Needless to say, the S III is one seriously feature packed phone. Armed with the Exynos 4412 quad-core CPU, the S III is also the most powerful smartphone on the market. The 2,100mAh battery, large screen, content sharing and enhancements to security and business management make the phone ideal for enterprise.
There are some subtle gripes, however. We note the word 'Plus' is missing from the Super AMOLED title, indicating that whilst 720p, the display features a pentile pixel configuration, similar to that in the GALAXY Note. The phone is, of course, also larger and for some, bigger isn't always better, though Samsung seems to have done a reasonable job at keeping thickness and width increments to a minimum.
With a huge array of new features, all designed to blend together in overall ergonomic bliss, we suspect the GALAXY S III can't be truly comprehended, applauded or detested until it's been tested out, and so we'll hold off on comment until its release on... wait for it... May 29th. The price is yet unknown, however both Vodafone and O2 have confirmed they'll be offering the device. A 4G LTE variant will be hitting the US, Japan and Korea sometime in summer.
P.S. The device can optionally be charged wirelessly through an inductive plate.