Samsung GALAXY S III Part 1
A disclaimer from the writer: The GALAXY S III has a big round design and a huge 4.8in screen, this may offend some, however we highly recommend you read further, Samsung's onto something with its focus on natural use as a device made for humans.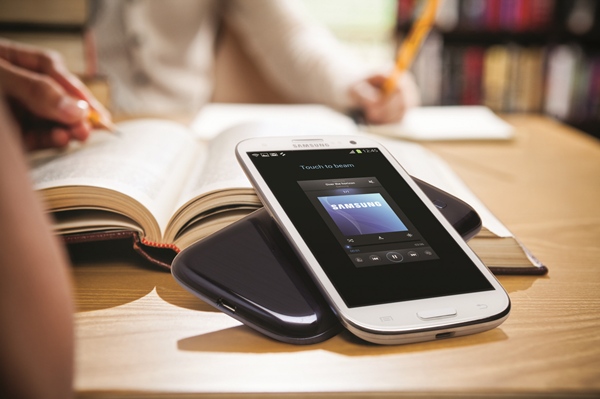 | | |
| --- | --- |
| CPU | Exynos 4412 (1.4GHz?) (Android 4.0.4 ICS) |
| Memory | 1GB LPDDR2 |
| Storage | 16GB, 32GB, 64GB options, with MicroSD slot (up to 64GB) |
| Camera | 8MP BSI AF LED-Flash Zero-Lag Shutter + 1.9MP BSI Zero-Lag Shutter, HD recording on both cameras at 60/30fps |
| Screen | 4.8in 1,280 x 720 Super AMOLED |
| Connectivity | WiFi a/b/g/n, WiFi HT40, NFC, Bluetooth 4.0LE, GPS/GLONASS |
| Sensors | Accelerometer, RGB light, Digital compass, Proximity, Gyroscope, Barometer |
| Dimensions | 136.6 x 70.6 x 8.6mm 133g |
| Battery | 2,100mAh |
Heading further towards the rounded design of the GALAXY Nexus, with inspiration from water, wind, leaves and pebbles; the GALAXY S III departs from the look of the S II, with colours available in Pebble Blue and Marble White.
The device weighs subtly more than the S II, at 133g, with a thickness of 8.6mm as opposed to 130g and 8.49mm respectively; however, the S III features an impressively large 2,100mAh battery and a grand 4.8in display; quite the amazing feat given a weight gain of only three grams, after all, the S II featured what now feels like a measly 1,650mAh battery. As a whole, the device is 136.6 x 70.6 x 8.6mm in size. To top things off, Samsung claims that the S III is more energy-efficient than its predecessor.
Samsung's focus with the S III has been on ergonomics and human interaction. The firm demonstrated this on several levels. The first is the physical design, which is now rounded and smoother to hold, with a thinner bezel, keeping the device's profile below what would be expected of a typical 4.8in device. A new manufacturing process was deployed specifically for the S III, to produce an enclosure with minimal seams.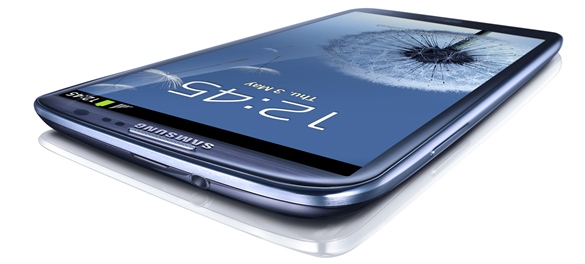 What really intrigues, however, is the combination of Samsung's hardware and software solutions. Backed with Android 4.0 as expected, Samsung has integrated a bundle of interesting new capabilities into the S III; the most significant of which is eye tracking, which Samsung calls 'Smart Stay'. Eye tracking doesn't quite mean hyper pupil dilating mouse control, however the feature folds well into the concept of ergonomics. By knowing when you are and aren't looking at the device, the screen knows when to turn itself on and off; this writer is undoubtedly not alone in the quest for the correct screen brightness delay time and Samsung has effectively eliminated what was, until now, one of the longest standing universal gripes of smartphone users.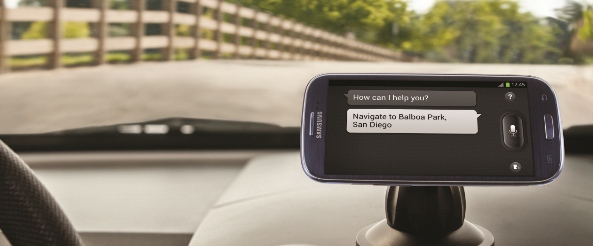 Not to be outdone by Apple's Siri, though the results of the firm's efforts remain to be proven, Samsung introduced 'S Voice', a siri-like voice service that goes beyond the standard voice control offered by Android. S Voice can be used to wake a device up without the need to pick it up and physically interact with it, with support for multiple and customisable wake-up commands, amongst several others. Other examples of S Voice are the ability to ask the device to snooze when an alarm sounds, play favourite songs, adjust the volume, send texts and e-mails, organise schedules and automatically launch the camera and take a picture.
Another feature is 'Direct Call'. If you're messaging someone and you decide to call them instead, simply holding the device up to your ear will initiate a direct dial of the relevant party. Samsung has also attempted to battle poor call quality with an in-call equaliser for greater voice clarity. 'Smart Alert' causes the phone to vibrate when picked up, informing users of missed calls and received messages.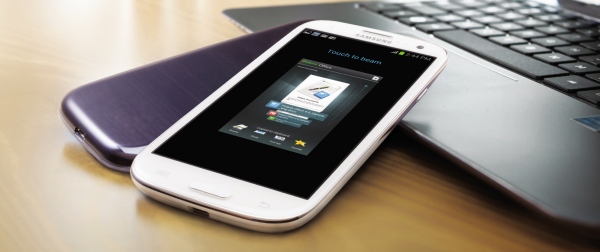 Tweaks to the device don't just stop at simple convenience features; Samsung has enhanced Android Beam, naming the new feature 'S Beam', the firm has combined NFC communication with WiFi Direct, enabling phones to instantly and securely connect to each other directly over WiFi for sharing large files and data not possible with NFC alone. As previously rumoured, Samsung will also be sponsoring the Olympics and, working with visa, will look to bring contactless payments to the S III.
Speaking of WiFi and taking a short side-step back to hardware, the S III features support for HT40, which enables twice the data rate through the use of a 40MHz-wide spectrum as opposed to the standard 20MHz. This 'dual-band' functionality theoretically allows for speeds of up to 300Mbps on Wireless-N. Likewise, the device features support for Bluetooth 4.0, including low energy profiles and the GPS is now capable of communicating with the Russian GLONASS satellite system.