Higher or lower...
Set in the year 2161, following a series of huge environmental disasters, the United States has been split into two factions, both of whom have differing evolutionary ideas that the other vehemently doesn't agree with. The Pacific States in the West believe in stem cell research, effectively restructuring the DNA of its inhabitants – a method the Atlantic Alliance finds morally reprehensible.

The Atlantic Alliance on the other hand believes in cybernetics, advancing humanity through technological advances. This inevitably leads to one big bust up and a huge conflict between the two.

It's an interesting enough idea, but one that you'll care little about as soon as you step into the role of the fantastically(awful)-named, Jet Brody, for the Pacific Alliance and predictably spend the rest of the game shooting anything in sight.

The background story is little more than an excuse to show off some of the futuristic weapons and test out the ground manipulation technology.

Aside from the likes of conventional weapons such as the assault rifle, shotgun and rifle, all of which notably lack authority and power, the futuristic range of weapons start off being quite exciting to use. The Entrencher allows you raise or lower terrain, albeit always to the same depth or height, which in turn allows you to move from one area to the next or to attack or defend a position.

You can aim it at the feet of an enemy whilst they're walking under a ledge and amusingly a hill will erupt out of the ground, raising the enemy skywards and crushing him into the ceiling. You can also use it to send a group of enemies hurtling backwards from the aftershock, conjure up hills to use as shields or throw a Vortex grenade that creates a swirling mass of energy that will suck any loose objects or enemies in, spin them around, and then explode with deadly force.

It's not a bad game mechanic, but each level seems to follow the same pattern, which consists of a period of fighting followed by what could loosely be described as puzzle-solving. This is the chance for the developer to really show off its terrain deformation feature, but its also where raising and lowering the terrain just becomes far too boring and repetitive. The ideas and creativity are missing.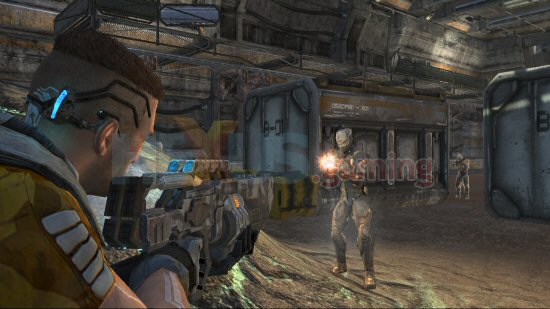 Click for larger image
Continued overleaf...