A groundbreaking game?
The puzzle solving element in Fracture simply revolves around you trying to work out a way, using your futuristic weapons, to reach the next area.

The main issue here is that the locations are are so painfully linear that it takes little working out to determine where you need to point your ground-deforming gun. More often that not, you'll be pointed in the right direction by a flashing icon that will show you exactly where you need to shoot your gun in order to progress.

The same gameplay is repeated over and over throughout the mission, which is disappointing when it's clear that such an impressive game mechanic could have been used in so many inventive.

Disappointingly, you can plough through the main fighting segments of Fracture without using ground deformation; you're never really encouraged you to use it, but instead you're forced to use it to solve some poorly thought out puzzles.

Terrain deformation is a great idea that should - and most definitely will - be used again. Considering this is its first outing, it's not a total disaster; the developer just hasn't taken full advantage of the technology.

Away from this redeeming feature, however, due to its bleak setting, lack of character, poor AI and general absence of anything that remotely resembles excitement, Fracture fails to deliver on practically every level.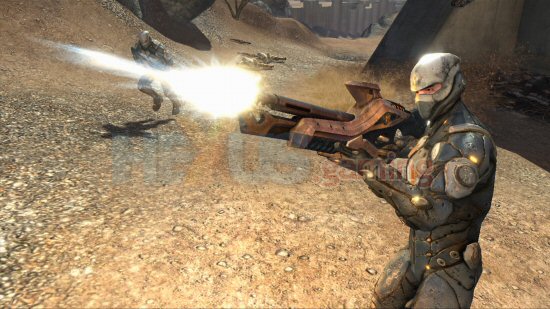 Click for larger image



Pros
Terrain deformation is a nice concept
Online multiplayer
Cons
Grubby looking
Lacks excitement
Very repetitive

A nice idea, executed poorly. (5/10)
HEXUS.right2reply
HEXUS World Leading HEXUS.right2reply initiative invites manufacturers, their representatives and vendors which supply HEXUS with products for technical editorial evaluation, to comment on the articles that we publish. If they choose to respond, we publish their response verbatim.