Angry Birds Star Wars has been launched. You can now download the latest episode of this gaming phenomenon for iOS, Android, Windows Phone, Kindle Fire, Mac OS X, PC and Windows 8. What is the new twist to the franchise? The Angry Birds are now cartoon bird and pig caricatures blending in the features of your favourite Star Wars heroes and villains. The game features birds that look like Luke Skywalker, Han Solo, Princess Leia and Chewbacca, R2D2 and C3PO and pigs lookalikes of Darth Vader, Stormtroopers and so on.
Cinematic trailer, shows no gameplay
As well as the bird character makeovers the game environment has been adapted to fit into the Star Wars universe using the physics engine of the previous Angry Birds Space game. Watching the gameplay trailer, with the familiar rousing Star Wars theme music in the background, gives you a good idea of the other extras the Star Wars franchise brings to Angry Birds. You can see the Star Wars influenced birds being catapulted in the familiar way but the birds are often armed with light sabres and laser blasters. The pigs meanwhile hide in Star Wars-esque structures, space stations and asteroid belts protected by laser canon and tie fighters etc.
Angry Birds Star Wars official gameplay video
The game is reportedly a worthwhile addition to the Angry Birds line and doesn't disappoint in its melding of the two big name franchises. "Can Angry Birds Star Wars sidestep the compromise and deliver the thrills? Yes it can. This is a treat for Star Wars fans and Angry Birds fans alike," says Stuart Dredges' game review on The Guardian website today. He also surmised that "Angry Birds Star Wars is the best Angry Birds game yet" and thinks that Rovio can't really be accused of just milking the brand for all it's worth.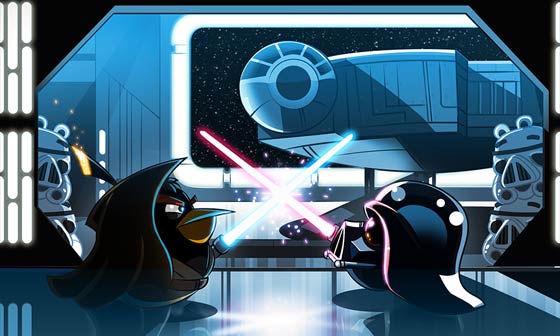 Angry Birds Star Wars costs between £0.69 and £1.99 depending upon your device but there is also a free ad-supported version of the game for Android users, probably something to do with Android piracy rates... There's a download link on the Angry Birds Star Wars Tumblr page at the top left if you think this game will appeal to you.