A long time ago (last Friday) in a country far far away (Finland) Rovio Entertainment launched a teaser video for their "biggest and best game to date". The new game will somehow fuse the worlds of Star Wars and Angry Birds. The Birds have already been shot out into space in a previous blockbuster game instalment, so it must have been out there in the freezing vacuum that they met up with Luke, Darth, C3PO and the gang. Will the new venture be the interstellar gaming and merchandising success Rovio are looking for?
The new Angry Birds Star Wars game will be released on the 8th November and be available on iOS and Android at that time. Rovio have set up a Tumblr page to warm everyone up for the impending launch, however all the company has uploaded there so far is a single animated GIF. Also there will something else revealed today at 10am EST in Times Square New York. "HINT: Head to Toys R Us at 8am EST!" Will this be the Angry Birds Star Wars action figures and plush toys unveiling?
USA Today got in touch with Paul Southern of Lucasfilm Ltd to ask about the forthcoming collaboration. He said the birds and pigs will be not just made over to look like Star Wars characters but will be "characters in their own right". However, predictably "You will see a pig-esque Vader and pig-esque stormtroopers" according to Mr Southern.
Idle Hands reveals a lot of what is upcoming in the toys arena, including a "Star Wars Angry Birds Jenga Death Star" game. Take a look at the pictures below.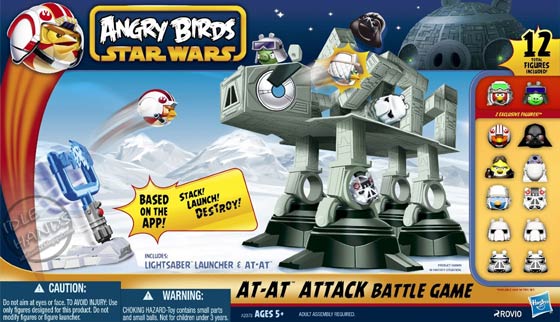 The game will use similar outer space gravitational gameplay elements like in Angry Birds Space but well known locations from the Star Wars series such as Tatooine and Hoth will host the bird-pig confrontations. Therefore it does seem like the gameplay will not be very far removed from previous Angry Birds artillery games.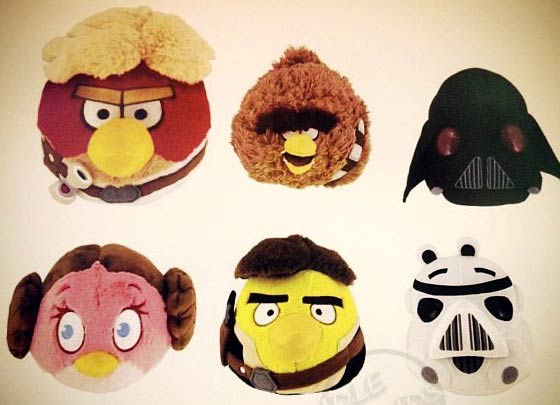 USA Today predict the new collaboration will be massive in merchandising with clothes, toys and action figures all released in time for Christmas. Apparently Rovio has sold $25 million worth of official Angry Birds plush toys so far. Animated adventures of the Angry Birds will also be coming to TV screens before the end of 2012. I can't wait...