Microsoft's Windows Store now has over 20,000 apps available for download. This milestone was breached on Tuesday and propels the company towards its target of reaching 100,000 apps in 90 days from GA. However unless the trend takes off exponentially the target isn't going to be reached. Please check out my "artist's impression" of the Windows 8 apps quantity, linear flight path, below.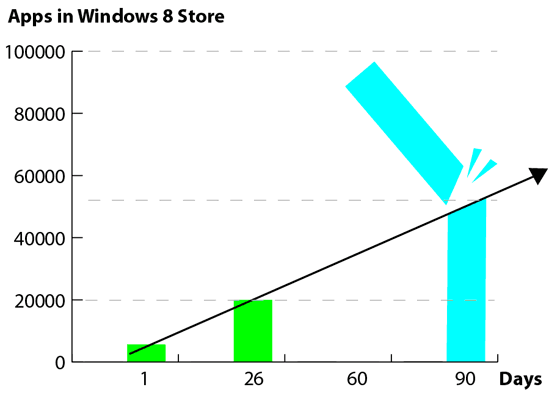 Windows app watching website WinAppUpdate has just tweeted that there are now 20,610 apps available in the Windows Store. The 20,000 app milestone was breached on Tuesday. By my rough calculations Tuesday was day 26 and on day 1 there were about 5,000 apps available in the Store. Simply plotting a straight line indicates that Microsoft and Windows 8 app developers really will have to step up their efforts to reach that 90 day 100k goal.
WinAppUpdate said that the proportion of free apps is very high; 17,958 of the 20,610 are free apps, that's nearly 90 per cent. However if you go to the Windows Store now you will find that there are not over 20,000 apps to choose from; that's because this is a global app figure. When we look at individual Stores the Canadians have the most apps available at 14,000, the US has 12,675 and here in the UK we have just 11,000 apps available to download.
Compare this progress to the Mac App store which had 10,000 apps in April 2012 after launching in January 2011 and Microsoft's progress seems reasonable. Keith Lorizio, VP, Microsoft U.S. Sales & Marketing seems to have simply been a bit over optimistic with his projections last month.
Users know it's not all about the numbers of apps but it's still an interesting figure and an indication of platform momentum. I've been using Windows 8 for about 2 months, including a preview version, now the full version. In that time, working on a large-ish screened desktop computer, I've spent hardly any time in the Modern-UI. It's quite pleasant to look at but I think I've used more time updating apps in the Store than using any of them. On a touch screen laptop or tablet the story may be totally different.