Earlier this month, we reported that Chrome had overtaken Firefox to become the second most used browser, holding a total of 25.69 per cent of the global market. Internet Explorer was still top-dog with 40.63 per cent of the market, a 14.94 per cent gap. Since this report, trends have continued, seeing Chrome increase its market-share by 1.25 per cent and Internet Explorer lose a share of 1.98 per cent, closing the gap to 11.71 per cent in a but a single month.
Source: StatCounter Global Stats - Browser Market Share
More recently, browser version breakdowns have become available for the November period, showing that towards the end of the month, Google's Chrome 15 browser had overtaken Microsoft's Internet Explorer 8 as the most popular single browser version, meaning there are more people in the world running Chrome 15 than any other browser version from any other firm.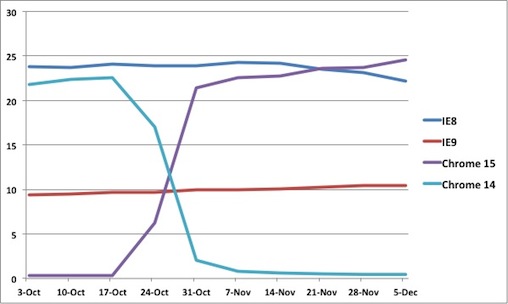 Holding the number one spot is great Christmas PR for the browser, though stopping a moment to consider the reason for Chrome 15 holding top-spot whilst Chrome as a whole remains significantly in second place reminds us of some of the core differences between the two competing browsers. Internet Explorer has a large business base and can be found in many firms, Government departments and Schools, these entities are often slow to update as they have to consider the management and security concerns involved when upgrading software; though Windows Automatic Update will deliver the latest Internet Explorer, many chose to turn this off, causing fragmentation across Internet Explorer versions. Chrome on the other-hand attracts less static users, in a situation where upgrading is less of a concern; Chrome is capable of updating itself in the background and so updates the vast majority of users to the latest stable release rather passively.
Perhaps then, the news of Chrome 15 taking top-spot is less significant than it would suggest, though closing the gap between Chrome and IE by a further 3.23 per cent in a single month may be cause enough for Christmas celebration for the Google team. These new figures are also a good reminder of the problems caused by Internet Explorer fragmentation in moving internet standards forwards and in reducing the burden on web designers to support old technology; Chrome has shown that it is possible to move a much higher percentage of users to later versions, perhaps Microsoft should be out taking some notes for everyone's sake.