According to data from web analytics firm, StatCounter, November 2011 saw Google's Chrome web-browser overtake Mozilla's Firefox, holding 25.69 per cent of the global market against the 25.23 per cent of Firefox.
This difference may seem minor, however, Chrome has been on a steep upwards climb since its launch and if trends continue, the small gap the browser has made between itself and Firefox will continue to widen. It's interesting to note that StatCounter's statistics show that, as opposed to fighting it out at the bottom of the barrel, Chrome has directly eaten into market leader, Microsoft Internet Explorer's user-base, meanwhile, the Firefox user-base has remained relatively constant, though is now showing signs of a slow drop-off.
Source: StatCounter Global Stats - Browser Market Share
There is now only a 14.94 per cent gap between browsing giant, Microsoft Internet Explorer, and rising star, Google Chrome. With Internet Explorer losing a market share of 6.31 per cent and Chrome gaining a share of 10.84 per cent over the past year; at this rate the gap could theoretically be closed by 2012/2013, seeing the browsers on level terms or perhaps even Chrome as the new market leader.
Launching in September 2008, three years ago, Chrome has been praised for its excellent speed and performance, with specific note to the browser's impressive V8 JavaScript engine, which has since triggered a massive reinvestment into JavaScript technology in other web-browsers, seeing performance rise dramatically across the board, allowing the scripting language to become a key enabler of new, smoother and more interactive HTML 5 experiences.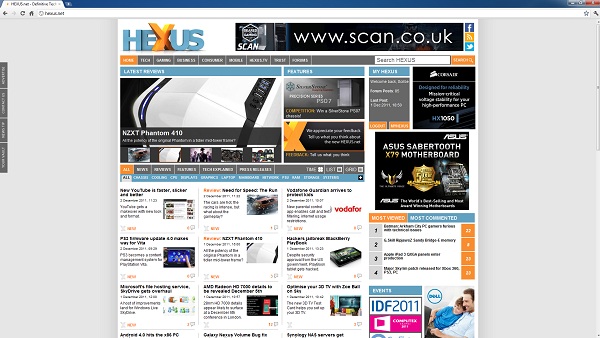 The browser also launched with a daring new minimalist interface that aimed to return screen real-estate back to the user, removing unnecessary icons, demoting unfrequented settings and extensions to drop-down menus and combining history, favourites, search and website entry into a single, powerful browser search bar, returning unification back to what had become a fragmented group of endless scrolling menus for many users. Again, as with the V8 engine, many browsers have since followed Google's lead and sought to mimic the minimalist approach, with specific note to Internet Explorer 9, which dropped the many tool-bars of its predecessor in favour of a similar interface to that of Chrome.
Aided by superior stability, security and ever shorter release cycles, Chrome has grown fast, becoming the reliable companion of many internet users, building up a comprehensive extension and applications library, both adopting and promoting new standards at a rate much greater than competitors; Chrome currently has the best support for the HTML 5 standard. Multi-platform support and interaction with Android cloud services has helped spread the reach of the browser even further.
At the end of 2010, Chrome added support for Microsoft Windows Group Policy settings, finally opening up the doors to the enterprise market and setting the stage for a takeover of Internet Explorer's previously rock-solid foothold in the workplace.
Google Chrome has accomplished great things in the brief three years since the browser's launch. Chrome continues to be an excellent browser and it will be interesting to see if this is enough to continue convincing users to drop their existing browsers in its favour, certainly figures would tend to suggest it is.