System Setup and Notes
Shuttle SB61G2 v3.0, Socket 478, Intel i865G, Pentium 4, 06/02/2004 BIOS
Albatron PX875P Pro, Socket 478, Intel i875P, Pentium 4, 10/02/2004 BIOS
ASUS P4S800D-E Deluxe, Socket 478, SiS655TX, Pentium4
DFI LANPARTY i865PE, Socket 478, Intel i865PE, Pentium 4, 19/12/2003 BIOS
Intel Pentium 4 3.2GHz, 512KB L2, 16 x 200MHz
Western Digital WD360 Raptor, SATA, 36.2GB (Shuttle, Albatron, ASUS)
ATI Radeon 9800XT (412/730)
Corsair XMS3200LL, 2 x 256MB, 2-2-2-6
Software
Windows XP Professional w/SP1
ATI CATALYST 4.1 and Control Panel
Intel Extreme Graphics Driver 6.14.10.3691
SiS AGP driver 1.17, SiS IDE driver 2.04a, SiS RAID driver 1.05 (ASUS)
Intel 5.02.1002 chipset drivers (Shuttle, Albatron, DFI)
HEXUS Pifast v41
Simplisoft HDTach 2.61
Kribi Bench 1.19
Sciencemark 2.0
3DMark 2001SE v330
Quake3 v1.30 HQ (four demo)
LAME 3.92MMX MP3 Encoding(192CBR, U2's Pop album)
Realstorm Ray Tracing
X2: The Threat - Rolling Demo

This SB61G2 is the last review from me to feature the CATALYST 4.1 set for the 9800XT, the 4.5 release being used in the future.

The i865G gets to go up against three other chipsets (i875P, SiS655TX, i865PE) and it's tested with both Intel Extreme Graphics 2 and a Radeon 9800XT in the AGP slot.

The usual test suite is used and the usual testing methods were employed. Each test was run three times, the median result used for reporting and the others discarded.

PAT mode was disabled with the i865G. Called Turbo mode in the BIOS, it wouldn't run all the tests in our test suite. Bear that in mind when comparing benchmark results. The Albatron and DFI motherboards had PAT enabled, the SiS655TX ASUS had its own version of PAT enabled.

Here's how CPU-Z 1.21 sees the SB61G2 v3.0 with our usual 3.2ES installed.


CPU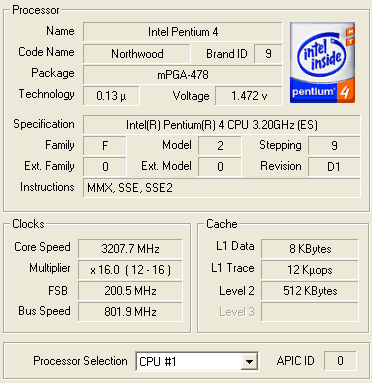 Motherboard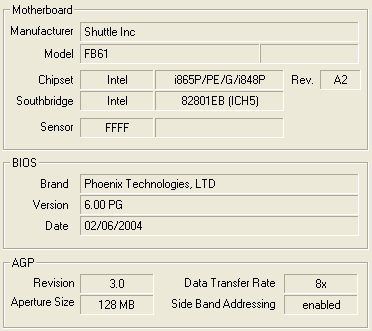 Memory Timings