Introduction
For PC gaming enthusiasts, is there anything more fun than setting yourself a budget then researching and sourcing the finest components at a given price point?
With component choices continuing to develop at a rapid pace, new builds at varying price points are as intriguing as ever, and it's for this reason we enjoy taking a look at pre-built PCs from various system integrators. With years of experience in the bag, these are the companies that should, really, be picking out the best current components and putting together slick gaming rigs suited to all sorts of budgets.
In the high-end space, Cyberpower reckons it has hit the sub-£2,000 nail firmly on the head with the Infinity Achilles GT.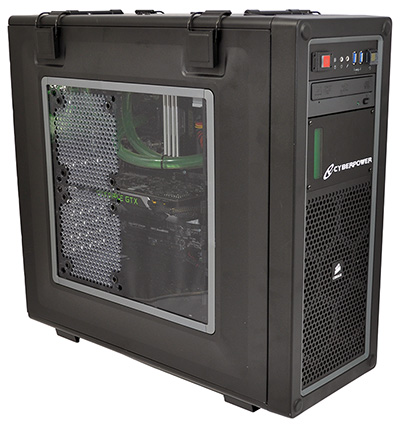 Almost two grand is a healthy to budget to play with, so this is a gaming PC that ought to look impressive and deliver performance in spades.
Cyberpower certainly delivers in the aesthetic apartment. Using a rugged-looking Corsair Vengeance C70 chassis, the Infinity Achilles GT is styled to look like a gamer's rig, and though the default case colour is standard gunmetal black, there are enough green highlights within to match-up to the meaty GeForce graphics card.
On the specification front, new hardware from the likes of Intel and Nvidia has given Cyberpower plenty of refreshed ammunition to play with. As expected, this high-end system ships with a fourth-generation Intel Core processor - codenamed Haswell - and there's no beating around the bush: Cyberpower has the top-of-the-line Core i7-4770K installed as CPU of choice.
A factory overclock is of course included, with the system-builder guaranteeing a boost of between 20 and 30 per cent. How much will depend on the exact build - Cyberpower challenges the capability of each rig individually - but our review sample arrived with a healthy out-the-box operating frequency of 4.6GHz.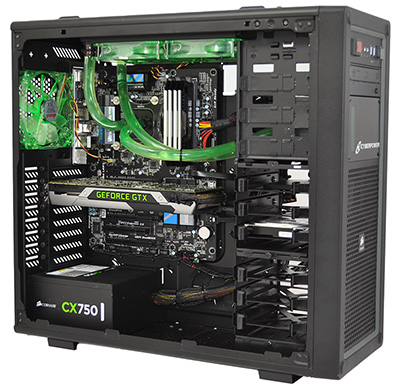 Haswell at 4.6GHz has lots of heat written all over it, so an advanced water-cooling kit is installed as part of the £1,900 fee. The good news is that Cyberpower looks past the simple all-in-one solutions in favour of something a little more elaborate. As part of the base specification, you get an assortment of XSPC components - including a waterblock, a 240mm radiator and a 300ml dual-bay reservoir installed in the bottom-two front 5.25in drive bays.
We love the fact that Cyberpower has green fluid flowing through the Infinity Achilles GT's veins - there's definitely some wow factor there - but it's a shame the liquid-cooling doesn't extend past the CPU.
If you want to get the GPU integrated into the loop it'll cost a fair amount more, though you will also have the option of upgrading to a larger 360mm radiator.
Speaking of GPU, just one is included in this £1,900 beast, but you're unlikely to be left wanting as it's an ultra-high-performance GeForce GTX 780. The CPU and GPU components are mighty indeed, but the supporting cast isn't quite as extreme.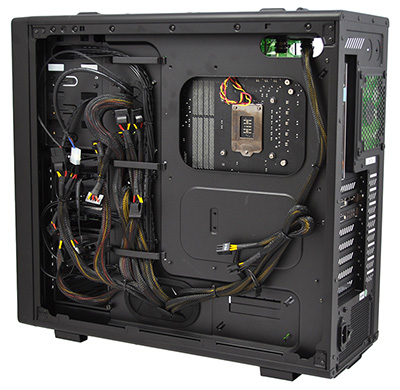 Cyberpower uses a mid-range Gigabyte Z87X-D3H motherboard, 16GB (4x4GB) of Corsair Vengeance Pro 2133 memory, and a dual storage configuration that consists of a 250GB Samsung 840 Series SSD and a 1TB Seagate Barracuda HDD. Good, solid component choices all round, but at this price point we'd have preferred a 2x8GB memory configuration, to make future upgrades that little bit easier, and perhaps a Samsung 840 Pro SSD.
Interesting to note that a Blu-ray writer is included as standard, while a modular power supply isn't. A 750-watt Corsair CX750 provides ample power - with enough scope for a second GTX 780 to be added in SLI - but there is a lot of cabling to contend with.
Cyberpower does a good job of keeping presentation neat and tidy, but if you're going to spend this amount on a PC, we reckon it's worth upgrading to a modular unit. Corsair's AX-Series supplies aren't an option, sadly, however you can switch up to a modular 850-watt CoolerMaster unit at a cost of £34.
The headline combo of a Core i7-4770K processor and GeForce GTX 780 graphics is tempting, but there is room for improvement elsewhere and, for users who might want to balance things out, there are a huge number of options on Cyberpower's configuration page. The choices are dizzying, but to give you an example, downgrading to a Core i5-4670K and GeForce GTX 770 graphics would save roughly £270 - money that could be pocketed or diverted to a faster SSD, a modular PSU and, if you prefer, a dedicated sound card.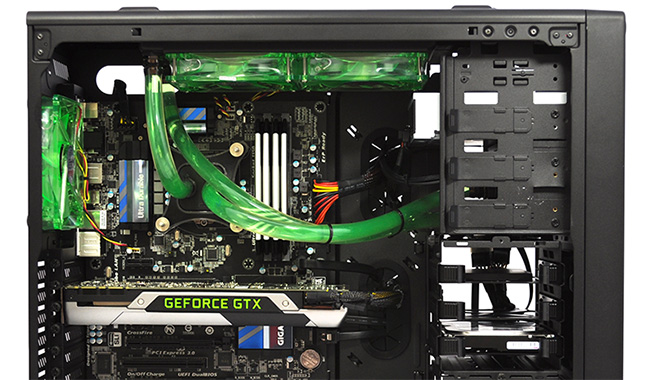 Point is, you can configure the Infinity Achilles GT to suit your needs, and pricing is pretty much in line with self-building. Taking the latter route would save a few pounds, but for a small premium, Cyberpower guarantees the overclocked system with a three-year warranty. The standard warranty includes collect-and-return cover for the first month, parts cover for two years and three years labour; a package that's well worth having for a liquid-cooled machine. Upgrades are available here, too, with an optional platinum warranty - priced at £149 - offering three years' collect-and-return.
Cyberpower's configuration options are about as comprehensive as they come, and the company's build quality is very nice, too. Our review system arrived well-packaged and suitably protected, with excellent cable management and a fresh install of Windows 8, complete with all the latest relevant drivers.
The Infinity Achilles GT certainly looks the business, but what's it actually like to use?