Specifications and initial thoughts
Shuttle sent us a top-end machine to showcase the power of a pre-built SFF system, so here's the specs.


| | |
| --- | --- |
| System name | Shuttle XPC P 2500G |
| Processor | AMD Athlon 64 FX-60 (dual-core) |
| Motherboard | Shuttle FN25 (NVIDIA nForce4, PCI-Express) |
| Memory | 2GBytes (2x 1GByte) PC3200 RAM @ 3-3-3-8 @ DDR400 |
| Hard Drives | Samsung SP2504C SATA2 250GB |
| Screen | None as standard, optional extra |
| Graphics card | Connect3D Radeon X1900 XTX 512MB |
| Optical drive | Shuttle CR40 |
| Sound | 7.1-channel VIA Envy24PT ASIC |
| Modem | None |
| Networking | Gigabit LAN from nForce4 SB |
| Ports connectivity (usable) | 6x USB2.0, 2x FireWire400, GbE, PS/2, COM, coaxial and optical S/PDIF |
| Operating system | Windows XP Pro SP2 |
| Case | Shuttle SN25P with Silent X 350W PSU |
| Warranty | Shuttle - 2 year collect and return |
| Price | £2199 including VAT |
| Shipping | Included in price |
| Other notables | Integrated card reader |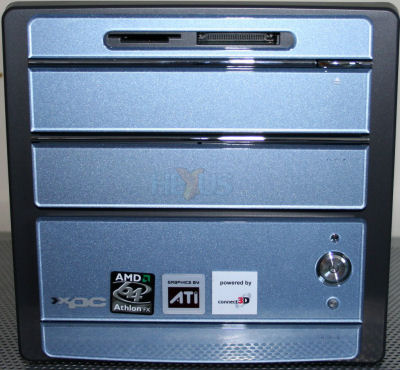 You've probably seen this before. The tasty componentry is housed inside a Shuttle XPC SN25P SFF barebones unit that takes in NVIDIA's nForce4 Ultra core-logic that provides support for AMD's Athlon 64 S939 CPUs, PCI-Express, decent sound from VIA's Envy24PT controller, and a stout 350W Silent X PSU. The front features an integrated card reader that provides support for all the usual formats.

A couple of drop-down doors give access to the optical and hard drives and a further door, at the very bottom, hides a collection of ports. The P-series chassis, we reckon, is the best Shuttle has designed thus far. It's easily built into, expansive for an XPC, and designed for high-power systems. It was kind of an obvious choice for this system, really.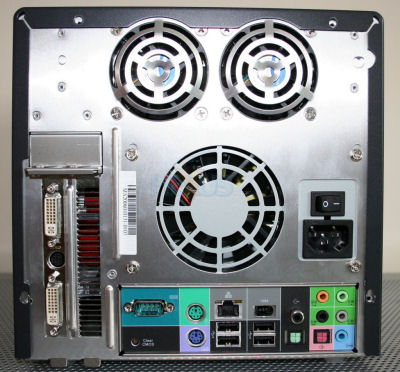 A look at the back shows a further 4 USB2.0 ports, FireWire400, audio ports and a handy clear CMOS button for when BIOS-related tweaking goes awry. You can also see the large fan from the 350W Silent X PSU and a couple of smaller exhaust fans at the very top.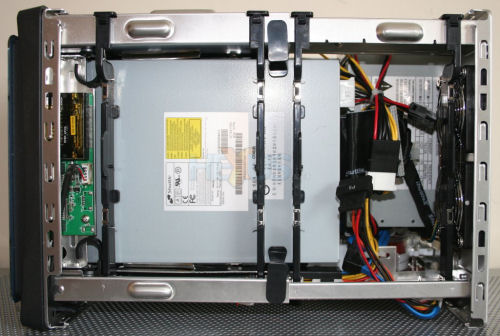 Pulling away the aluminium cover by removing four thumbscrews, we see the innards of the multicard reader and a Shuttle CR40 optical drive that offers dual-layer support and up to 16x DVD-writing speed. Full specs. can be found here. The eject button on the front pushes the tray out and the stealthing door down.

It's possible to add another couple of hard drives into the SN25P chassis by installing them into the rails at the top. Doing so, however, will limit the effectiveness of the twin 40mm exhaust fans.