Introduction
One of the challenges facing system integrators is how do you make yourself stand out from the crowd? Dream machines, quiet builds and powerful all-in-ones are just some examples, but Cheshire-based vendor Computer Planet has a different angle: next day delivery.
The self-confessed builder of 'the best custom computers on the planet' has a range of next day systems to choose from, and the promise is a simple one - configure and order any one of them before 4pm, and your machine will be built, tested and delivered the next working day.
We've been sent the Next Day 4000 to have a look at. Priced from £950 inc. VAT, this is the highest-performance next-day system on offer and one that's officially classed as a true gaming PC.
As part of the default specification, Computer Planet includes an Intel Core i7-3770K processor, an Arctic Cooling Freezer 13 cooler and a Gigabyte GA-Z77-D3H motherboard. These core components are integral to the build and can't be changed during the configuration phase. Given the need for a swift delivery, we imagine these base components are already put together waiting to be put into a chassis.
There is some choice elsewhere, but unsurprisingly the selection remains limited in scope - at least in comparison to systems without the next-day promise. A Cooler Master CM 690 II Lite is the chassis that's included as part of the base specification, and users are given the option to upgrade to a Cooler Master HAF X at an additional cost of £102.
Memory is provided by 16GB (4x4GB) of entry-level 1,333MHz Corsair Value Select (you can downgrade or upgrade capacity) and the default storage option is a 1TB Seagate Barracuda hard disk.
We're surprised to find that an SSD isn't included as standard in a machine that costs nearly £1,000, but that wasn't always the case. The ND 4000 launched with an SSD as the primary storage device, but Computer Planet found that most customers opted to change it back to a 1TB hard disk, and altered the base specification to reflect that trend. We're staunch advocates of SSDs, so we'd naturally be tempted to upgrade to the 120GB OCZ Vertex 3, although doing so will cost an additional £55.
Graphics are handled by a 2GB GeForce GTX 660 - our sample had the added bonus of using an overclocked Gigabyte variant - and a good selection of upgrades are available. Users can choose Radeon HD 7950 or 7970 cards, as well as the GeForce GTX 670, 680 and 690. The GeForce GTX 660 Ti is a surprise omission, and there's no option to move up to a dual-GPU configuration.
The latter is probably a limitation imposed by the Cooler Master GX Lite 700W PSU - it isn't ideally suited for two or more high-end graphics cards, and the PSU is another component that can't be changed during the order.
Build quality is an obvious concern on a system that's promptly sent out the door, but our sample arrived swiftly and has been well put together. There are no creaks or rattles - everything is fixed sturdily into place - and Computer Planet still manages to make time to ensure that the latest motherboard BIOS is installed, as well as any available Windows updates.
All of our test system's cables are packed tight to allow the side panel to attach without any trouble, but there is a bit of behind-the-tray cable clutter. The Cooler Master PSU doesn't use sleeved cables and looks untidy as a consequence, and the overall component selection falls short in certain areas. The PSU isn't modular, the memory is of the basic 1,333MHz variety, the standard chassis' front I/O panel doesn't offer USB 3.0 connectivity, and a Blu-ray optical drive is a £74 optional extra.
The Core i7-3770K processor is of course the star of the show, but given the short amount of time available for testing, that too ships without any form of factory overclock - out the box it'll run at its default speed of up to 3.9GHz.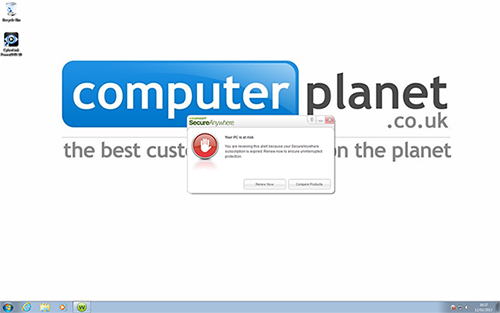 Computer Planet offers a choice of Windows 7 Home Premium or Windows 8 (both cost the same) and also opts to preload a couple of other software packages. By default, its systems include Nero CD/DVD burning software, CyberLink PowerDVD 10 and a one-year license for Webroot 2013 Anti-Virus. There aren't any major offenders here, but we could do without the latter as it's never nice to turn on a brand-new machine just to be told that "your PC is at risk."
The ND 4000 on the whole is a system that's kept simple for obvious reasons but it serves the intended purpose; if you need a fast PC, it can be configured up until 4pm and be delivered by UPS the next working day. However there is a price premium involved. Pricing up the individual components from popular UK retailers suggests that a knowledgeable user could build the same machine for £870.
You're essentially paying a near-10-per-cent premium to have the system built and ready in a matter of hours, though of course you do also have the benefit of a three-year warranty as standard. As part of its service, Computer Planet covers parts for the first year - including free collect and return - and any labour costs for years two and three.