Performance and Summary
We have three other portable storage devices in our line-up: a 256GB Patriot USB pen drive, a 512GB SK hynix SSD attached via a cheap-and-cheerful SATA-to-USB 3.0 cable, as well as a 2TB My Passport Ultra. An extra wrinkle is introduced with the 8TB Seagate Innov8 that's powered by USB Type-C.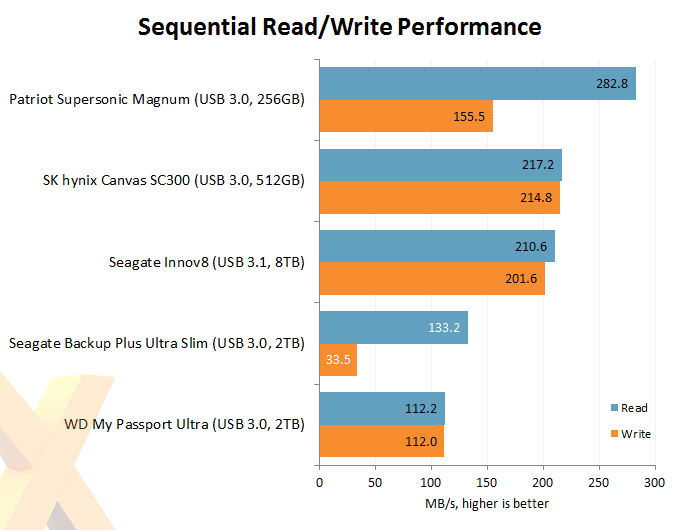 Sequential tests show storage appliances in the best possible light. These are the kind of peak speeds you would expect if transferring multiple large files to and from the drive. The Ultra Slim produces the kind of sequential read numbers that make attractive reading and marketing collateral.
The drive's Achilles' heel is the write speed, averaging just 33MB/s over this relatively short test. Should you wish to move that near-2TB movie collection over to the Ultra Slim then be prepared for a long wait...over 16 hours in fact. The situation is actually even worse than the above numbers show because average write speed drops to much closer to 10MB/s after extended use.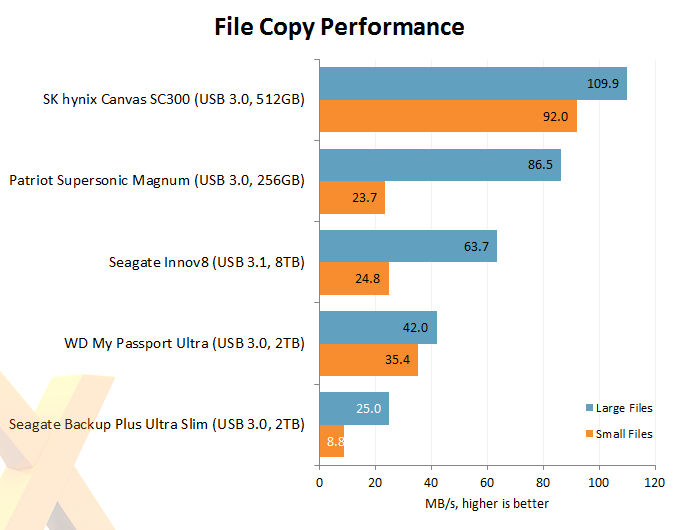 Our second benchmark involves two scenarios; copying across a folder containing large files such as ISOs; and copying across a program folder full of various small files. Large-file performance isn't too bad, all things considered, yet throughput is severely stunted when a mass of small files are flying over the interface. We put the substandard performance down to the below-average write speed shown in the first graph. If you have only one takeaway from the performance section, let it be this: the Ultra Slim drive sacrifices performance for a sleeker form factor.
Summary
Offering up to 2TB of nominal capacity in a 9mm-high, thin form factor ensures the drives stand out from the crowd...

Seagate has broadened its external storage portfolio with the introduction of the Ultra Slim drives at the turn of the year. Offering up to 2TB of nominal capacity in a 9mm-high, thin form factor ensures the drives stand out from the crowd.

There's an inevitable price premium for going down the svelte route, exemplified here with an additional 40 per cent fee over a standard-sized drive. Those, however, who expect the same kind of overall performance will be left wanting; the Ultra Slim's meagre write speed holds it back when transferring massive amounts of data onto it. Sure, you may not need to fill it on a regular basis, but it can at times feel painfully slow by modern standards.

Almost all external storage is a compromise of sorts. The Seagate Backup Ultra Plus scores big on looks and true portability but loses out in write speed and, inevitably, price.

The Good

The Bad

Super-slim form factor
Solid read speed
Handy utilities
Stylish design

Poor write performance
Significant price premium




Seagate Backup Plus Ultra Slim 2TB




HEXUS.where2buy

The Seagate Backup Plus Ultra Slim 2TB is available to purchase from Amazon.

HEXUS.right2reply

At HEXUS, we invite the companies whose products we test to comment on our articles. If any company representatives for the products reviewed choose to respond, we'll publish their commentary here verbatim.