We're never short on interesting new gadgets here in the HEXUS labs, but despite living and breathing all-things cutting edge, you know what we really appreciate? A well-made USB 3.0 flash drive.
It's something that anyone working with a computer is likely to need, and with today's USB drives offering greater speeds and higher capacities than ever before, there's good reason to ditch your 2GB freebie in favour of something a little more potent.
Memory giant Adata is a well-known and highly-rated purveyor of said drives, and one of its latest offerings - the DashDrive Elite UE700 - appears to be well worthy of consideration.
Arriving in 16GB, 32GB and 64GB capacities, priced at around £35, £45 and £55, respectively, the UE700 isn't the cheapest USB 3.0 flash drive on the market, but then it is touting a combination of speed and style that should appeal to the more discerning user.
The drive, measuring 63mm x 21mm x 7mm, is suitably small and thin, and it tips the scales at just 11g, making it extremely light. Adata's form factor is excellent and the same could be said for the drive's aesthetics. The black brushed aluminium shell looks professional from any angle, and the concentric lines that surround the single blue activity LED are a very nice touch.
Taking lost caps out of the equation completely, Adata has opted to use a retractable USB connector that's motioned through a small slider on the edge of the device. On the opposite end a small loop is available for attaching the bundled lanyard. Being overly critical, we'd have preferred the lanyard loop to have been integrated into the main body, as opposed to jutting out in one corner, and it's a shame the USB 3.0 port is coloured in industry-standard blue - black would have been more in keeping with the rest of the device.
Adata DashDrive Elite UE700

Capacity

Read Speed

Write Speed

16GB

155MB/s

25MB/s

32GB

190MB/s

50MB/s

64GB

200MB/s

100MB/s
Still, this is a very attractive USB 3.0 drive, and on paper it has plenty of performance potential, too. Adata officially quotes read and write transfer speeds of up to 200MB/s and 100MB/s, respectively, and rightly claims that these figures are way in excess of the vast majority of USB flash drives on the market today.
That might be true, but readers should note that the headline speeds are limited to the top-of-the-range 64GB model. Due to way in which the drive reads and writes data from multiple flash memory chips, smaller-capacity drives will see significant reductions in overall performance. As illustrated by the table to the right, Adata's smallest 16GB model is 23 per cent slower in terms of read performance, and a massive 75 per cent slower in write performance.
The 64GB model, clearly, is the pick of the bunch and our benchmarks confirm that Adata's figures aren't far off the mark. Starting with sequential read and write performance, the popular AS SSD benchmark returned 193MB/s and 89MB/s, respectively, placing Adata's drive fractionally behind Corsair's pricier Flash Voyager GT. As is the case with most USB pen drives, writing to the drive isn't anywhere near as quick as reading from it, though anyone migrating from USB 2.0 will immediately notice the increase in speed.
Putting a real-world slant on things, the file copy benchmark mimics certain usage scenarios by transferring across mixed-size files. Once again, the 64GB UE700 is just shy of the numbers achieved by a 64GB Flash Voyager GT, but make no mistake, this is a quick USB flash drive - one of the fastest we've ever tested, in fact.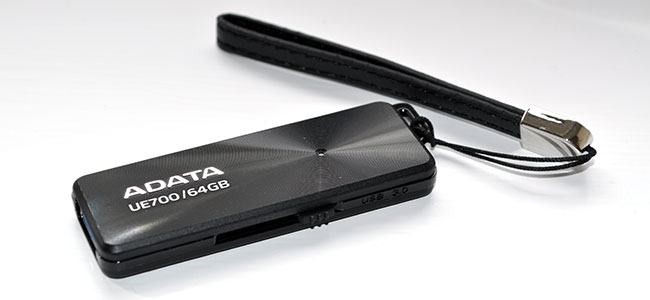 Bottom line: Thin, light, attractive and suitably fast. There are cheaper USB solutions on the market, but anyone searching for a drive of higher pedigree should have Adata's DashDrive Elite UE700 near the top of their list.
The Good
Good performance
Small and very light
Attractive design
Retractable connector
Lifetime warranty
The Bad
16GB and 32GB models not as quick
Write performance isn't stellar
HEXUS Rating

Adata DashDrive Elite UE700 (64GB)
HEXUS Awards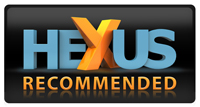 Adata DashDrive Elite UE700 (64GB)
HEXUS Where2Buy
The 64GB Adata DashDrive Elite UE700 is available to purchase from Novatech and Amazon UK.
HEXUS Right2Reply
At HEXUS, we invite the companies whose products we test to comment on our articles. If any company representatives for the products reviewed choose to respond, we'll publish their commentary here verbatim.