SSD-like speed
The SD conundrum
Got a digital camera or camcorder? Chances are you'll also have a memory card, or several, to store the hundreds of photos and videos that are taken on a regular basis. Camera memory cards arrive in a number of different flavours, from large CompactFlash to tiny xD cards. The most popular format is Secure Digital (SD), with multiple variants - SDSC, SDHC, SDIO, and SDXC - together with multiple form factors, including standard, mini and micro. Confusing, eh?
The majority of digital cameras use the postage stamp-sized SDHC (Secure Digital High Capacity) card, though pro-level digital SLRs often have CompactFlash slots, or both, mainly for performance and flexibility reasons. Drilling down further, SDHC cards are limited to a maximum 32GB capacity and are speed-graded via various classes. Class 2, 4, and 6 SDHC cards are guaranteed to provide a minimum sustained MB/s write speed, for shooting video, corresponding to their class, so a minimum of 6MB/s for a Class 6 card. Getting top marks is a Class 10 card, which promises a minimum sustained write speed of 10MB/s though, cheating a little, this speed is only guaranteed if the card is in a non-fragmented state, meaning it's not too full.
Most modern digital cameras include a high-definition movie mode. For example, a Panasonic Lumix TZ30 can record 1080p videos at 50fps in the AVCHD format. Doing so requires video-shooting bandwidth of 28Mbps (or 3.5MB/s) and, therefore, an SDHC card with at least a Class 4 rating. Making the best-informed choice requires an understanding of capacity and speed.
Leading on from the above, most consumers' video and photography needs can be sated by a 32GB SDHC card that's rated as Class 6. Such cards cost from £25 and the sheer capacity is enough to store thousands of photos and hundreds of HD videos. But just like the enthusiast PC market, spend more money and faster/higher-capacity cards become available. Jumping up a step in capacity, to 64GB and beyond, requires investing in a Secure Digital eXtended Capacity (SDXC) card. With a theoretical capacity limit of 2TB, though presently available in sizes up to 128GB, the only constraint is budget. Do be aware that they use a different filing system - exFAT - that's incompatible with SDHC's.
And if a Class 10 card simply isn't fast enough, for whatever reason, the recently-introduced UHS-I (Ultra-High Speed) format, available for both SDHC and SDXC cards, is considered cutting-edge. UHS-I cards support much higher internal clock frequencies that enable sky-high speeds to be reached, right up to 104MB/s read or write.
Speedy Gonzales
This long preamble sets the context for reviewing a 32GB SDHC UHS-I card from ADATA, and it is released as the premier solution for pro-level digital SLR photographers and video-camera users needing to use the SDHC format. Supersize the capacity, to 64GB, and ADATA has the Premier Pro SDXC card as the show pony, while the microSDHC form factor is taken care of by a 32GB model.
The Premier Pro's UHS-I provenance is shown by the markings to the right of the SDHC logo, and this is what marks it out from a plethora of average-speed cards. Though it is not written on the packaging or card, the Premier Pro supports the UHS104 format and maximum sequential reading and writing speed of 95MB/s and 45MB/s, respectively. Note that 'regular' UHS-I cards have a maximum 60MB/35MB/s ceiling. However, a device needs to support the UHS interface in order to realise the quoted speeds; the card defaults to a Class 10 SDHC in non-UHS-I-approved cameras and camcorders. The mixed news is that most mid-range modern dSLRs have UHS-I compatibility but don't readily accept the extra speed on tap.
Premium technical specifications - there's SSD-quality memory inside each card - are allied to a premium price. ADATA informs us that the reviewed card is to be made available for around £115, including VAT. Undeniably expensive when set against the £25 charged for the same-capacity Class 10 cards, the price is reasonably competitive against other manufacturers' UHS-I SDHC offerings. ADATA backs the 32GB model with a limited lifetime warranty, by the way.
Achieving the maximum throughput from a UHS-I card requires the use of a UHS-I-enabled device or, better still, a USB 3.0-connected reader. We use a Durapower ER-110 USB 3.0 multi-card reader for this purpose. Adding a comparison, we include a Kingston 32GB SDHC Class 10 card for good measure, and an Intel Z77 motherboard's native USB 3.0 port is the host.
Just how fast is it?
The first benchmark is AS SSD and it measures the sequential read and write performance by evaluating just how quickly the card(s) can access a single 1GB file created by the test.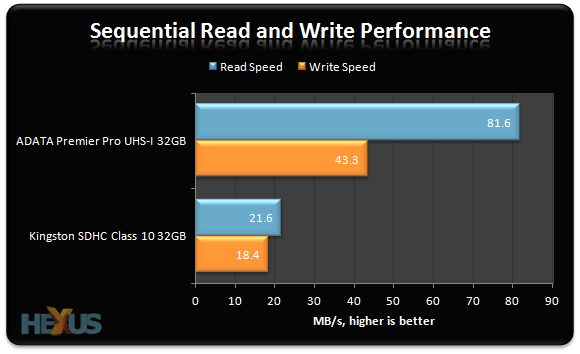 Impressive performance from the Premier Pro 32GB card. Sequential write numbers align closely with the claimed 45MB/s. Reading performance is 15 per cent lower than the peak number claimed by ADATA; perhaps the bandwidth limitation may be imposed by the quality of the USB 3.0 reader.
The comparison Kingston card's performance is well above the Class 10's base specifications - albeit the test isn't run on fragmented memory - yet its numbers fall considerably short of ADATA's.