The Vertex Series goes full circle
To the surprise of many, OCZ's latest high-performance Vertex Series drive isn't powered by the ubiquitous SandForce processor. Instead, the Vertex 4 can be seen as a direct successor to the original 2009 Vertex, as both the first- and fourth-generation models are powered by a processor designed by Indilinx.
This time around, Indilinx is a subsidiary of OCZ and that makes the Vertex 4 one of few SSDs where the PCB, controller and firmware are all in-house designs. It's an exclusive recipe, and one that OCZ hopes will result in harmonious operation throughout the life of the drive.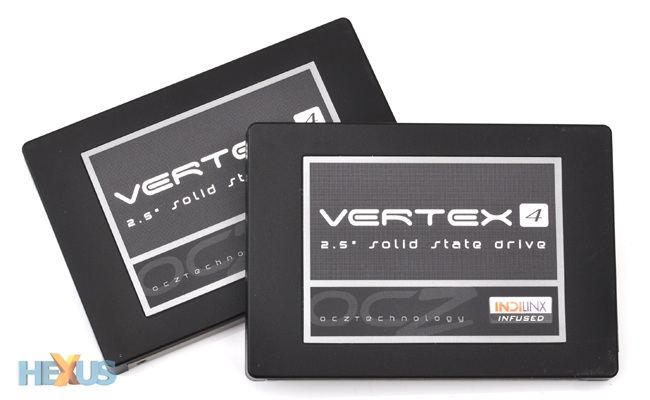 Many readers won't want to take OCZ's word for it, at least not when it comes to reliability, so how's this for reassurance; all Vertex 4 drives will be backed by a five-year warranty as standard. That's two years more than the Vertex 3 and in line with some of the best offerings in the industry.
At launch, three capacities are available; a 128GB model priced at $179, a 256GB model priced at $349 and a 512GB model priced at $699. Translate those figures to British Pounds, add the VAT, and you arrive at price tags of roughly £135, £265 and £525, respectively.
That puts pricing a fraction over £1-per-GB, but the launch price is competitive, and so are OCZ's official performance specifications. According to the manufacturer, the three launch-day models - as well as the comparable Vertex 3s - break down as follows:
The numbers paint an interesting picture, for they suggest that the Vertex 4 won't quite be a match for its predecessor in terms of raw sequential throughput. The SandForce-powered Vertex 3 remains king in that particular department, while the Vertex 4's maximum sequential write speed reduces dramatically in relation to drive capacity. There should only be one winner in a straight race, but the Indilinx Everest 2 processor does show promise in other areas.
In addition to the longer warranty, the Vertex 4 touts excellent random read and write performance, and no compression-related performance limitations. Unlike SandForce drives - which use DuraWrite compression technology to reduce the size of written data and consequently boost performance when working with compressible data - the 'Indilinx Infused' Vertex 4 promises to be quick at all times, regardless of the type of data in use.
Externally, there's not much to the Vertex 4. The 2.5in drive looks a lot like its predecessors, and save for the text on the rear barcode, you wouldn't be able to tell the difference between the pictured 256GB and 512GB models.
OCZ's enclosure consists of a plastic top and a metal base, with four screws holding it all in place. Opening the drive up does void the five-year warranty, so we wouldn't recommend doing this at home, but here's a look inside our review samples:
Once again, it's tough to tell the difference between the 256GB Vertex 4 (pictured left) and the 512GB Vertex 4 (pictured right). Both feature a SATA 6Gbps interface, a central Indilinx Everest 2 processor (model IDX400M00-BC), a total of 16 NAND memory devices and two memory chips that combine to create the onboard cache.
What sets the drives apart, of course, is the size of both the NAND devices and the amount of integrated cache. In the 256GB drive, the 16 NAND chips (eight on the front of the PCB, eight on the back) are 25nm synchronous dual-die devices (model 29F16B08CCME3) from Intel weighing in at 16GB apiece, and they're joined by a pair of 256MB Micron modules that create a 512MB cache. For the 512GB model, each NAND device is a quad-die package doubled in capacity to 32GB and the memory modules are doubled in size, too, creating a large 1GB cache.
We've yet to see the NAND configuration for the smaller 128GB drive, but we're told the entry-level model will utilise the same 512MB cache as our 256GB review sample. The mSATA connector on the left of the PCB, meanwhile, can be ignored - OCZ uses it for debugging purposes and it won't appear in production units.
Stating the obvious, OCZ could use Toggle Mode NAND for greater performance (remember, Toggle Mode beats synchronous, and synchronous beats asynchronous), but sticking to synchronous NAND should help keep costs down. And, of course, if history were to repeat itself, this launch configuration leaves room for a Vertex 4 Max IOPs model further down the road.
As with all modern-day SSDs, a variety of technologies are included to extend the life of the internal NAND beyond the manufacturer's rated program and erase cycle specification. In the Vertex 4's Everest 2 processor these technologies are packaged as Ndurance 2.0 and include a multi-level ECC engine, internal voltage shifting to extend the life of each NAND cell, and a proprietary technique used to reduce write amplification by concatenating multiple write requests from the host to minimise copy-back operations. As expected, TRIM support is also included, as is background garbage collection.
A five-year warranty, keen pricing and strong performance with both compressible and incompressible data types bodes well for the Vertex 4, but are these drives able to usurp last year's Vertex 3? There's only one way to find out.