Testing methodology
Comparison Memory

G.Skill TridentX 8GB
G.Skill RipjawsZ 8GB
Model
F3-2400C10-8GTX
F3-12800CL9Q-16GBZL (halved)
Capacity
8GB (2x4GB)
8GB (2x4GB)
Speed
2,400MHz DDR3
1,600MHz DDR3
Timings
10-12-12-31-2T
9-9-9-24-1T
Voltage
1.65V
1.50V
Price*
£95
£40
Cost per GB*
£11.875
£5
*Approximate, correct at time of writing
Test bench

CPU
Intel Core-i7 3770K Ivy Bridge
Motherboard
Gigabyte Z77-D3H
Storage device
Corsair V128 SSD
Graphics card
NVIDIA GeForce GTX 680 2GB (301.10 drivers)
Power supply
Corsair AX750
Operating system
Windows 7 Ultimate SP1, 64-bit
Notes
How best to test memory on a platform which is new? Rather than show you minute differences by comparing kits that are very nearly the same in specification, we're taking a different tack here. We've benchmarked the TridentX pack on our Ivy Bridge test platform and compared it against a DDR3-1,600 pack of the same capacity run at 9-9-9-24-1T timings, per our review.
The Core i7-3770K has four cores and eight-thread processing ability. Applications that stress these cores/threads may need access to memory outside of the chip's cache and this is where super-fast system RAM comes in. Further, as the new Ivy Bridge chips feature integrated graphics that are a step above those present on Sandy Bridge models, and the IGP draws its bandwidth allocation from system memory, chances are that 2,400MHz-rated RAM can make a meaningful contribution when gaming on the IGP.
On paper, then, 2,400MHz memory is plainly more desirable than 1,600MHz RAM, but the loose latencies and excellent efficiency of the Ivy Bridge CPUs' on-chip cache may reduce the expected performance gap to practically zero. Only one way to find out, right?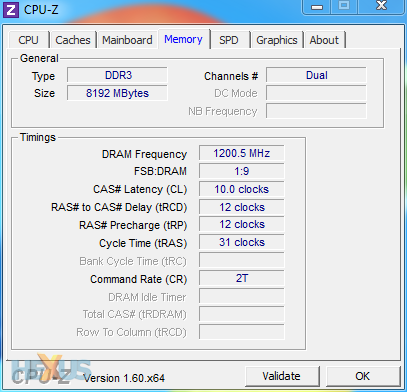 Overclocking
The test Gigabyte board offers a wide range of memory ratios that enable the user to run the memory at various frequencies without having to adjust the base clock. The TridentX's is, naturally, 24x, though the board provides 26x (2,600MHz), 26.66x (2,666MHz, etc.), 28x, 29.33x, 30x, and 32x. In short, you'll likely run out of frequency headroom than encounter board-related restrictions.
Keeping the latencies the same and trying to run 26x (2,600MHz) resulted in a failed boot, hinting that these modules have a small sweetspot. Increasing the timings to 11-13-13-35-2T - those specified on the highest-speed modules - wasn't enough to ensure stability at the next speed up, 2,600MHz, so it seems as if the modules are binned for this speed and timings alone.