Performance
Testing the capability of a product built around Powerline technology isn't a simple task; the performance is directly linked to the building and the quality or condition of its mains electric cabling.
It's important to note, therefore, that the speeds achieved in this evaluation are merely a guideline and your own mileage may vary. For the purpose of our tests, we placed a desktop PC on the ground floor of a relatively new-build property and a laptop on the first floor. Both systems were separated by a distance of roughly 50ft, the desktop PC was connected directly to a Gigabit router, and the laptop was connected to the network using one of the following four methods:
Using the integrated Atheros AR9002WB-1NG 150Mbps Wireless N controller
Using a Netgear XEB1004 85Mbps Homeplug Adapter Kit
Using a Power Ethernet Socket 200Mbps Starter Kit
Using a Netgear XAVB5101 Powerline Nano 500 Set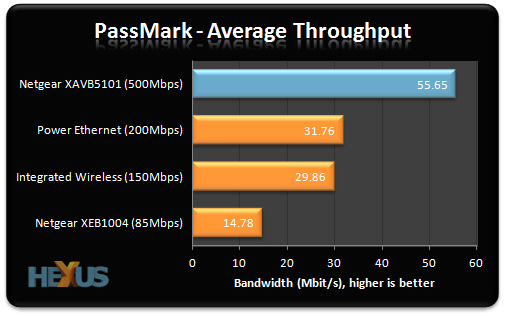 Netgear's Powerline Nano 500 Set (XAVB5101) gets off to a good start. Compared to using Wireless N, we see a speed increase of over 85 per cent. The result is no match for using lengths of Ethernet cable between devices - doing so returned a bandwidth score of 606Mbit/s - but the Powerline Nano 500 Set is the best alternative we've tested.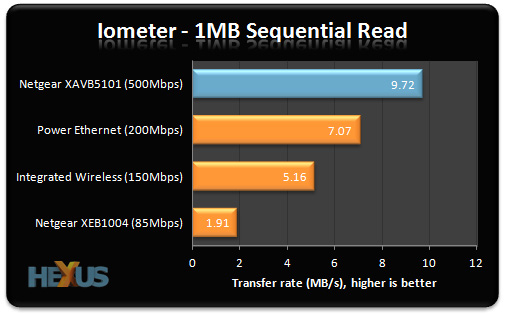 Using Iometer to gauge sequential read performance between our two networked computers provides similar results; Netgear's 500Mbps solution is almost twice as quick as using wireless, and as expected, it's a solid step up from Power Ethernet's 200Mbps option.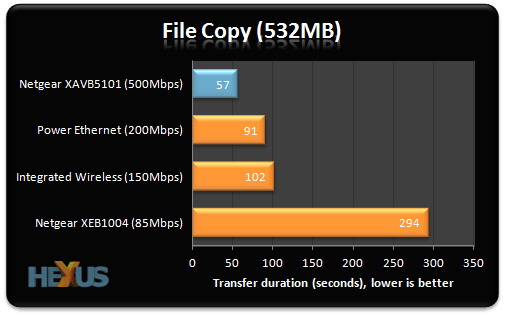 Having the extra speed isn't just good for benchmarks, though. Using a real-world example to show what impact the extra network speed can have, this final benchmark entails copying three movie files from one system to the other.
The files measure a total of 532MB in size and Netgear's Powerline Nano 500 Set does well to complete the transfer in under a minute. Though, don't expect performance to rival lots of Ethernet cable and a Gigabit switch; using such equipment allows us to complete this same test in less than 10 seconds.