How big? General usage and media playback
Size musings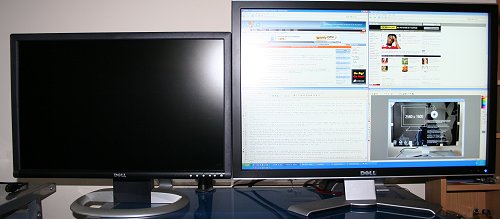 Just how big is it, then?. Well, here's the 30-inch monster next to the now-ubiquitous Dell 2405FPW, teetering over the edge of a small desk. In pure resolution terms, the 3007WFP packs in 77.8% greater number of pixels (4MP vs. 2.3MP, roughly) on a screen that's around 52.5% larger in size. Basic maths tells us that the 3007WFP packs in more pixel density than the 2405FPW (0.25mm vs. 0.27mm pixel pitch), making text look, comparatively, even smaller on a larger screen.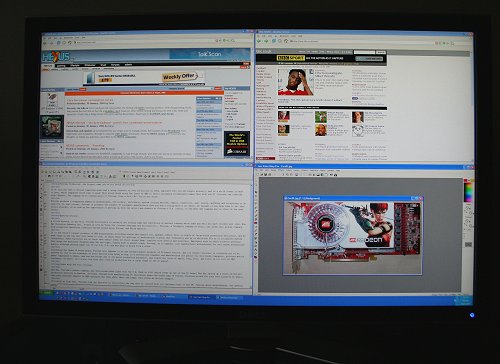 One advantage of the 2560x1600 native resolution is the ability to view 4 WXGA (1280x800) windows concurrently. The above shot shows our favourite website, Macromedia abuse, Paintshop Pro, and the BBC's sports webpage. In fact, there's more pixel coverage on this single screen than, say, 2 1600x1200 panels run side by side.

Why would you want this kind of real estate on a single panel? The answer depends upon what you do. The ~4MP screen also allows you to view digicam photos at or close to their native resolutions. Users who need multiple panes open and don't want to go down the multi-monitor route, such as yours truly, can appreciate the extra area over and above a 24-inch, wide-aspect WUXGA panel. Video-editing, 3D modelling, and CAD work all come to mind, too. Then there's the option of using the 3007WFP as your media-playback display of choice.

There's no high-definition media around that can correctly utilise the display's 2560x1600 resolution: even 1080p is limited to 1920x1080 pixels. The Dell 3007WFP has no inbuilt video-scaler ASIC, perhaps providing the reason why analogue inputs have been eschewed. Rather, scaling is handled by the graphics card in your PC, so, in the main, the quality of DVD playback (480p for PAL) will depend upon just how proficient your dual-link DVI card is.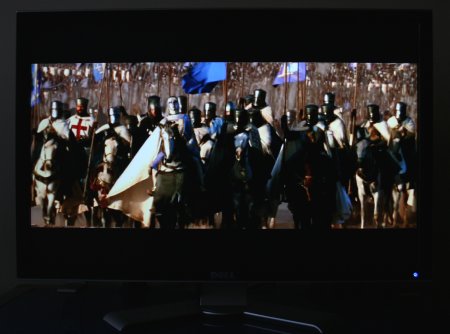 Here's a clip from Kingdom Of Heaven; a film presented in 1:2.35 widescreen format. Note the large black bars on the top and bottom? Dell quotes a grey-to-grey pixel response time of 11ms and black-to-white of 14ms. Colours were rich and vibrant, and blacks were deep and not the dark-grey rendition seen on lower-quality displays. We noticed no tearing or ghosting whilst running the 3007WFP through it paces by choosing a number of fast-moving films. DVD playback was at least on a par with Dell's own 2405FPW and, we reckon, a touch better than on a 32-inch widescreen Sony FX68 CRT.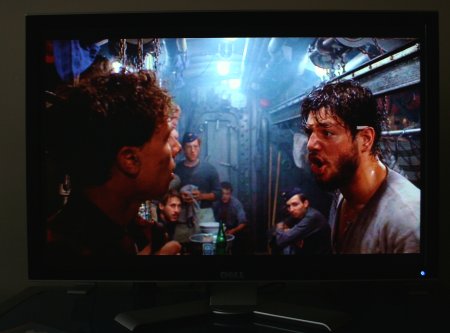 Here's a clip from the excellent Das Boot, presented in 1:1.85 widescreen format. Difficult to see without enlarging the picture (click on it) are the small borders at the top of bottom. The 3007WFP has an aspect ratio of 16:10 and not 16:9 associated with most LCD TVs. So whilst the 3007's raison d'etre doesn't lie with media playback, it makes a decent enough job of it for it to be a worthwhile bonus.