Layout and BIOS
AMD's Accelerated Processing Unit (APU) is carving a name for itself as a do-it-all chip for mainstream PCs. Part CPU and part GPU, the headline processor, A8-3850, costs £99, and supporting motherboards are available from £60.
We've seen FM1 (A75) boards from ASUS and Gigabyte, and both have been decent, but now it's the turn of AMD partner Sapphire to show what it can do for the A-series APUs.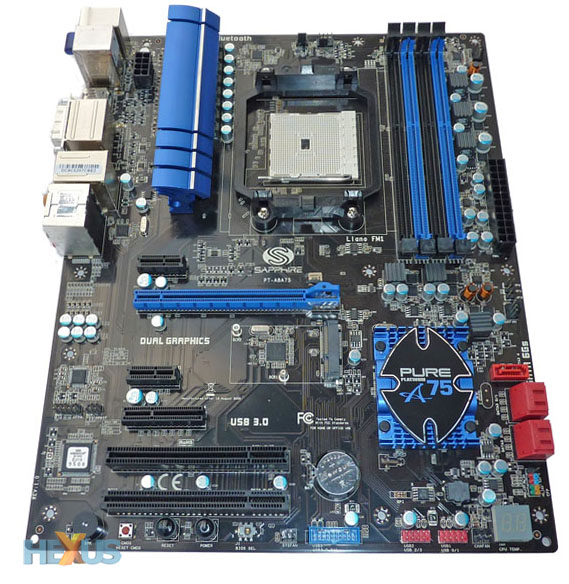 The PURE Platinum A75 is presented in an ATX form factor, measuring 12in x 9.6in. The black, blue and red colour scheme just about works from an aesthetic point of view.
A large heatsink dominates the upper section of the board. There's no real need for fancy heatpipes or esoteric cooling; the Llano platform focuses on value more than the very last drop of performance.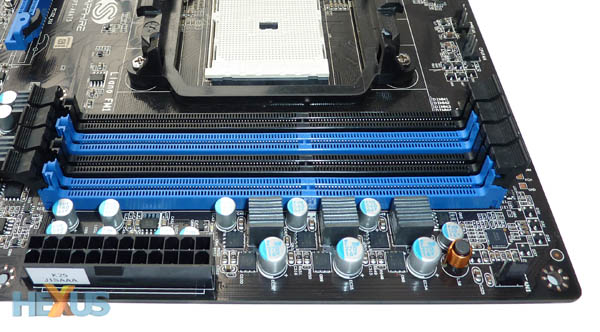 Spacing around the CPU socket seems tight, mainly because of the considerable heatsink, but it's easy to install a wide variety of coolers. Understanding the system memory performance is pivotal when running an APU chip with the onboard graphics, Sapphire supports DDR3-1,866MHz memory at default chip speeds, though, as usual, the caveat is that only two DIMM slots can be populated at such a frequency.
Load up the slots with four sticks and DDR3-1,600MHz is the limit. Three fan-headers make a lot of sense in this section, and Sapphire practices good design by having the 24-pin and 8-pin power connectors located near the edge of the board.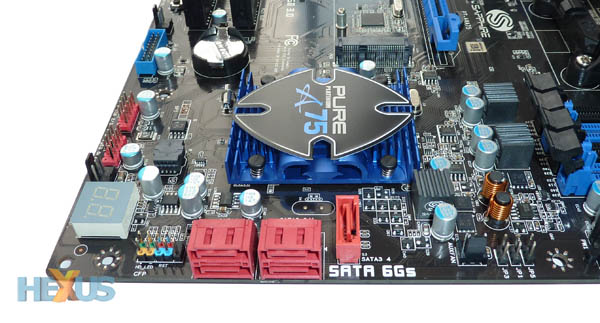 Sapphire drops one of AMD's six SATA 6Gbps ports on this model while rotating the fifth port upwards. Handily, there's a debug LCD screen to the left, useful for troubleshooting any POST-related problems.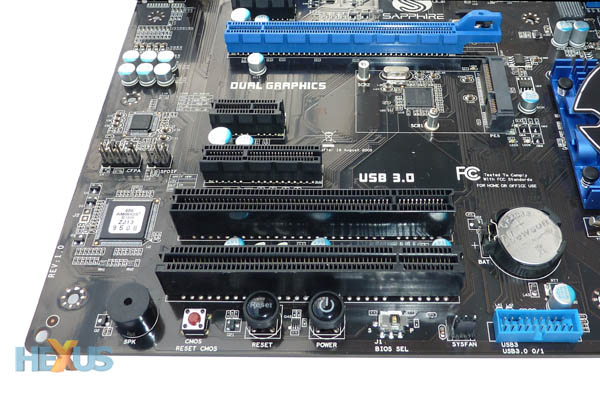 Looking to make this FM1 board appeal to the enthusiast, onboard power and reset buttons are flanked by the ever-useful clear-CMOS button and a switch that enables you to toggle between the board's two BIOSes - and it's akin to the one found on high-end Radeon cards. There are also voltage-monitoring points for those with a penchant for multimeters, by the way.
We find it strange that Sapphire doesn't include a second (mechanical) PCIe x16 slot, ostensibly for dual-card CrossFireX purposes, but, instead, chooses to add in a x4 PCIe slot. Most other premium FM1 boards allow the use two discrete cards, albeit with reduced PCIe lane usage.
Still, the onboard graphics from an APU chip can be paired up with a discrete card's, usually a mainstream 6-series part, to offer what AMD terms Dual Graphics.
Sapphire opts for a PCIe x16, 2 x PCIe x1 and 2 x PCIc line-up, and the gap between the slots, where one would presume a second x16 PCIe would go, is left to an onboard mini-PCIe slot. It's an interesting design choice and one we wouldn't have gone with.
See the USB 3.0 onboard header? It's double the width of a regular one, and Sapphire bundles in a front-mounted (3.5in) bracket with a couple of integrated USB 3.0 ports. What's more, there's also a coupon for DiRT 3, as well.

We've noticed that Bluetooth is becoming a pervasive feature on high-end motherboards. Featured on the PURE Platinum A75 - behind the blue cover - the rear is chock-full of outputs and ports. The APU graphics' video can be exported by HDMI, single-link DVI or DisplayPort, a couple more USB 3.0 ports never hurt, and Gigabit LAN, audio from Realtek's ALC892 CODEC and eSATA makes the I/O section pretty comprehensive.
FireWire is becoming less important to motherboard manufacturers, so we're not surprised to see it omitted here.
Board summary
The PURE Platinum A75 motherboard from Sapphire, retailing at £100, looks like a solid bet for the enthusiast who wants to go down AMD's APU route, though non-standard design choices - no second mechanical x16 PCIe slot, and a mini-PCIe slot - means its appeal isn't perhaps as wide as it could be.
BIOS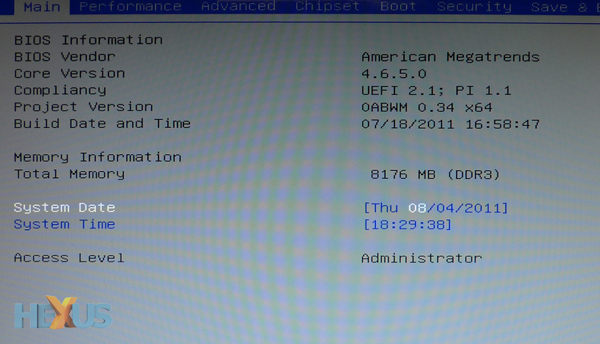 Sapphire employs an AMI BIOS on the PURE Platinum. It's actually UEFI-compliant (as you can see in the picture) but the easy-to-use front-end GUI has yet to be implemented. This is a shame because we laud just how smooth and user-friendly the latest UEFI BIOSes are from the likes of ASUS.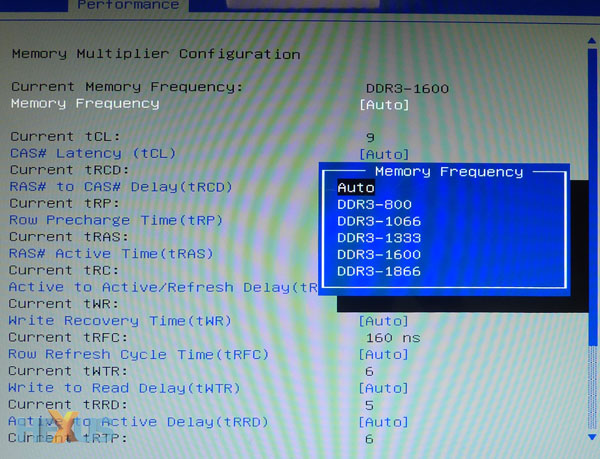 Dipping into the memory timings screen shows the usual array of options on an enthusiast-grade board. But go back to the main screen, where one would change the APU's multiplier and frequency, and the BIOS isn't as intuitive as one would hope. For example, you can raise the APU's clock but the BIOS doesn't inform you of the maximum limit (which is 300MHz). It's little things like these that separate the very best motherboard manufacturers from the rest.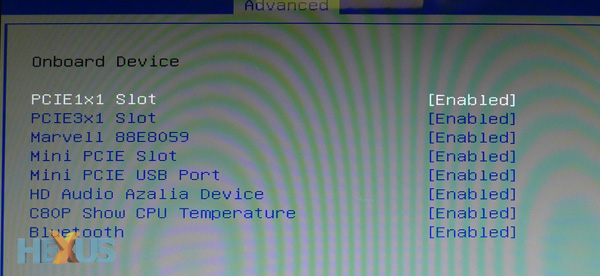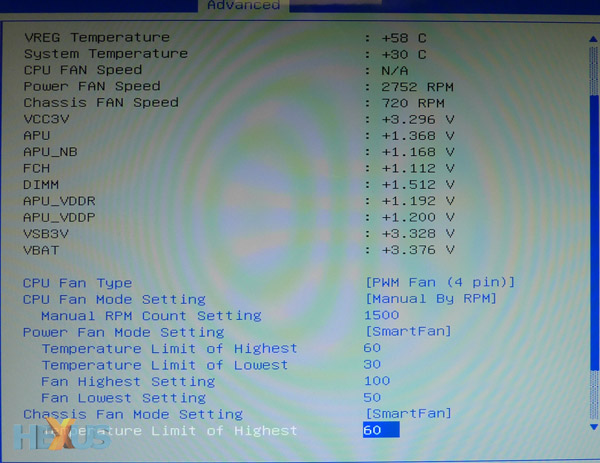 Sapphire's voltage regulation and fan-speed control is pretty robust; the latter can be set by temperature or explicit speed.
Notwithstanding the dual BIOS option, going through the x34 release, we found no way of saving, say, 10 BIOS profiles and then having the ability to reload them - a feature common on other boards. Further, there's no clear method of updating the BIOS from this section; we had to use the tried-and-trusted AFUDOS tool in, well, DOS.
Sapphire does earn a few points by including its TriXX overclocking utility; this time an OS-based app with controls for various voltages and frequencies.
A reasonable BIOS that could definitely do with a front-end spruce-up.