Specs. and initial look
Let's take a look at the Pegasus 650's vital statistics.


| | |
| --- | --- |
| System Name | Rock Pegasus 650 |
| Processor | Intel Pentium M 770 - 2.13GHz - 533MHz FSB |
| Motherboard | Intel i915GM (dual-channel support, Sonoma, PCI-Express support) |
| Memory | 1GByte (2x 512MB DDR2 PC4200 SODIMMs) |
| Hard Drives | Seagate ST9100822A, 100GB 4,200RPM, 8MB cache, ATA100 |
| Screen | 15.4" WSXGA+ (1680x1050) - WXGA on review model (1280x800) |
| Graphics card(s) | ATI Mobility RADEON X700 XT 128MB PCIe (MXM) & Intel 915G |
| Optical drive | NEC ND-6500A |
| Optical drive characteristics | 8x DVD-R, 8x DVD+R, 4x DVD+RW, 4x DVD-RW, 2.4x DVD+R9, 24x CD-R, 16x CD-RW, 8x DVD-ROM (read) |
| Sound | ICH6 High-Definition Azalia audio through Realtek ALC880 CODEC |
| Modem | Motorola SM56k |
| Networking | Realtek RTL8169 10/100/1000 LAN, Intel 2915 802.11a/b/g Wireless |
| Operating system | Windows XP Home SP2 |
| Weight | 3.15kg (without charger) 3.5kg with |
| Dimensions | 358mm (w) x 272mm (d) x 25.3-35.7mm (h) |
| Warranty | Rockdirect 3-year collect-and-return |
| Price | £1408.83 inc. VAT (as at 10th September 2005) |
| Shipping | Included in above price |
| Other notables | Genesys card reasder (SD,MMC,MS, MS-Pro), switchable graphics, 5% CPU mains overclock |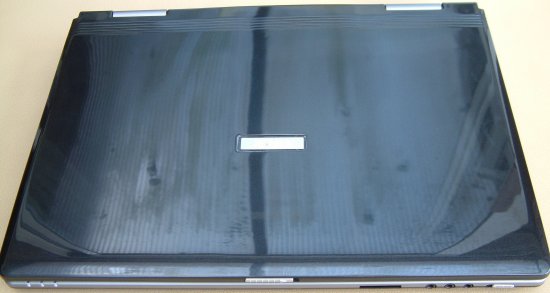 What you're looking at is the reflection from the sample Pegasus 650's rather nice Bad Boy Metallic paintjob. Rockdirect uses layers of automotive paint followed by four layers of crystal coating. The end result is one that is difficult to photograph correctly but certainly gives the laptop an immediate high-quality finish. All Pegasus 650s are available in five colours; Bad Boy Black, Matt Silver, Diablo Red, Estoril Blue, and for an extra £50, the stunning Chameleon Blue/Green. The choice of finish is determined at the point of sale.

What you'll also note by looking at the overall size is that it's somewhere between a true thin-and-light notebook and fully-blown desktop-replacement. The Pegasus 650, sans charger, weighs in at just over the 3kg mark, making it a little too heavy for day-to-day carrying but certainly a lot more portable than the slew of DTR laptops that seem to be in fashion right now.





The very front of the Pegasus 650 is just an inch high and is relatively port- and socket-free. The right-hand side houses a 4-in-1 multi-card reader, audio ports, and the first of the surprises in the form of an intriguing switch. The Pegasus 650 is based on Intel's Sonoma platform and the sample model carried a Pentium M 770 CPU (2.13GHz) housed on an Intel i915GM motherboard with, as the name suggests, integrated Extreme graphics. The kicker is that there's also a discrete MXM-based ATI Mobility Radeon X700 128MB video card in the laptop, too. The modular nature of MXM is handy because it allows notebook manufacturers to change between compatible GPUs with the minimum of fuss. Simply remove and plug in the upgrade and install new drivers if necessary, and it avoids one of the proprietory shortcomings of previous laptops by doing so.

Now what's the point of two graphics cards in one laptop, we hear you say? Most of the time when in battery-powered mode, users simply want the laptop to function in 2D mode, and we're thinking spreadsheets, emails, DVD playback, and Macromedia abuse, etc. Cutting-edge gaming is usually much further down the list of mobile priorities. Given that as a scenario why not simply use the discrete graphics' power-saving features instead? The answer is actually surprising, as both NVIDIA and ATI's power-saving measures on midrange laptop GPUs aren't as efficient as Intel's integrated graphics. There's a lot more transistors to keep running on discrete cards. We'll show you the difference in battery life when running 2D applications with both the integrated graphics and discrete ATI card set to maximum efficiency. Once switched off, the button toggles between integrated and discrete, and the desired video is activated once the system is switched on. It really is as easy as that.





A look at the right-hand side shows a single PCMCIA slot, a mini FireWire400 (non-powered) socket, 3 USB 2.0 ports, power adapter socket and S-Video.





A closer look shows the copper heatsink on top of the sample's Pentium M 770 CPU. Thanks to the low-power nature of the Dothan-based CPU, with a TDP of only 27w, the laptop's fans are mercifully quiet even when plugged into the mains and under full load. That's a definite advantage over the Xtreme Ti's Pentium 4 CPUs, which require larger and heavier cooling. 2.13GHz, the clockspeed for the P M 770 model, is more than competitive against higher-clocked Pentium 4s and Athlon 64 CPUs but Rock has added an even greater performance punch by adding another 5% clock speed when under mains-powered mode. That pushes up the Pegasus 650's clock speed up to an impressive 2240MHz. Extra performance for free!