DX9 performance from S3
Let's be abundantly clear about this. S3's DeltaChrome lineup isn't meant to challenge the real powerhouse GPUs from ATI or NVIDIA. S3, it appears, wants in all lovely-looking effects that DX9 compliance allows, and yet have partners price the retail boards at a level that will interest system integrators looking for a modern, affordable card to use in mid-priced machines.

S3 has decided to segregate the DeltaChrome family into 3 distinct groups. The value sector comprises of the DeltaChrome S4 and S4 Nitro, respectively, with the latter much like NVIDIA's 'Ultra' incarnations. The GPU's reference gives some of the game away. These value-orientated cards will feature a regular 4x1 rendering setup and fanless running. The mainstream (~ £100) will comprise of the S8 and S8 Nitro. This time, however, the setup involves 8 rendering pipelines. The performance sector encompasses the DeltaChrome F1 and F1 Nitro, again with the 8x1 setup and faster core and memory speeds, presumably. It's not just limited to desktop boards, S3 also plans a line of mobile DX9 chips. So S3 isn't planning on a quiet DX9 entrance; it's going for the jugular with the DeltaChrome line.

Let's talk specifics. We know that S3 promises DX9 compliance and an 8x1 rendering setup with the S8 GPU, but just what kind of performance can we expect ?. That'll be the biggest factor in the range's success or failure.


| | | | |
| --- | --- | --- | --- |
| Name | S3 DeltaChrome S8 | ATI Radeon 9600XT | NVIDIA GeForce FX5700 Ultra |
| GPU speed | 300MHz | 500MHz | 475MHz |
| Rendering pipelines | 8 | 4 | 4 |
| Peak Pixel Fillrate | 2.4GPixels/s | 2GPixel/s | 1.9GPixel/s |
| No. of TMUs per pipe | 1 | 1 | 1 |
| Peak Texel Fillrate | 2.4GTexel/s | 2GTexel/s | 1.9GTexel/s |
| Memory bus | 128-bit | 128-bit | 128-bit |
| Memory size | Up to 256MB | Up to 256Mb | Up to 256MB |
| Memory type | TSOP/ BGA | TSOP/ BGA | TSOP / BGA |
| Memory speed (DDR) | 600MHz | 600MHz | 900 |
| Max Memory Bandwidth | 9.6GB/s | 9.6GB/s | 14.4GB/s |
| Manufacturing process | 0.13-micron | 0.13-micron | 0.13-micron |
| DX9 Pixel Shader | v2.0+ | v2.0 | v2.0+ |
| PS precision | 96-bit | 96-bit | 64/128-bit (16/32-bit per colour) |
| Vertex Shader | v2.0+ | v2.0 | v2.0+ |
| Floating-point precision | 24-bit | 24-bit | 24-bit |
| No. of Vertex Shaders | 4 | 2 | 4 |
| Anisotropic filtering (max) | 16 | 16 | 8 |
| Antialiasing | Multisampling - 6 samples | Supersampling - 2 samples | Multisampling 8 samples |
| Price | TBA | £125 | £140 |


The basic specifications put the DeltaChrome S8 in a positive light. The GPU is manufactured by TMSC on a 0.13-micron process. In terms of pixel-pushing power, the 300MHz GPU speed is boosted by the 8-pipe rendering design (1 TMU unit per pipe) to give a theoretical 2.4GTexels/s throughput. The last decent midrange 8x1 design was ATI's Radeon 9500 Pro; a card that proved faster than its replacement in a number of scenarios. Like most midrange offerings, S3's DeltaChrome S8 uses a 128-bit memory interface, which allows for a theoretical 9.6GB/s bandwidth with 600MHz (DDR) RAM. Is that enough memory oomph to keep the 8-pipeline architecture happy ?. That's something we'll try and uncover. Both ATI and NVIDIA have gone to lengths to preserve that most precious of graphics commodities; usable graphics bandwidth. S3 plans to use intelligent occlusion culling and z clears to minimise the load on bandwidth. That's an absolute must for any self-respecting, modern GPU.

S3 rightly proclaims that the DeltaChrome line tows the DX9 line. Indeed, looking at the specifications above, it goes beyond Microsoft's latest API's requirements.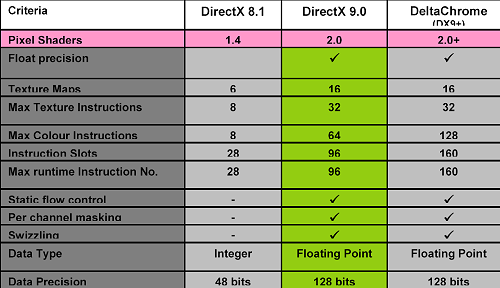 The table above shows why. The DeltaChrome allows for 96-bit pixel (programmable, naturally) shader precision and 24-bit floating-point precision, as per DX9 spec. Literature also contends that the GPU possesses 4 vertex shaders for the all-important, realistic-looking effects that we've come to coo at. We'll look at their effectiveness in 3DMark03's synthetic tests. The only real blot we can immediately see is the limitation of GPU's antiliasing ability. FSAA, undertaken via a supersampling approach (that is, rendering the image internally at higher resolutions, smoothing out edges by 'blurring' the colours that straddle the edge, and downscaling to the intended resolution) is limited to 2 samples at a maximum resolution of 1024x768. All things considered, given the midrange nature of the S8 GPU and the likely performance penalty of using savage AA and anisotropic filtering settings with limited bandwidth, the decision to reduce AA to 2 samples isn't as criminal as it first sounds. Anisotropic filtering, however, matches ATI's 16-tap.

Performance, then, should be adequate, especially if considered from a pure pixel-pushing point of view and without due concern for edge aliasing. Busting DX9 specifications, running OGL 1.3, and having the ability to run the very latest awe-inducing benchmarks and games isn't all that the S8 is about, contends S3. It, like ATI, has placed emphasis on an allround graphical solution that takes the whole spectrum of usage into account.

High-Definition video seems to be on the top of the list of non-3D features. The DeltaChrome series, amongst other benefits, offers native Hi-Def output at up to 1080p (wouldn't that be perfect for a little Shuttle-based box ?. Excellent clarity on a big-screen television, yum), hardware rotation, and DeltaChrome Chromotion, a real-time video image enhancer that can de-block, sharpen, smooth, emboss or even create a running neon effect. It won't make your webcam footage resemble professional film, but should help clean up some of the extra noise that's present in low-resolution video. Useful or just another gimmicky extra ?. That depends upon your natural view of what a 3D accelerator should do. It kind of combines into an ATI VideoShader-like feature, with the intention of enhancing video streams through the use of clever hardware-assisted features. This will, we feel, lend itself well to integrated systems that focus more on the multimedia abilities of a card, rather than its balls-out benchmark performance. It seems like a balanced architecture, on paper at least. Let's take a look at our reference card now.