Introduction
High-end VGA without the frills



It's pretty cool how products can occupy the same sales sector, yet be so diametrically opposed. The card I'm looking at today shares the same high-end performance and features as the ASUS Radeon 9800XT/VTD, but without any of the pomp and circumstance of the flashy ATI debut from the world's largest retail manufacturer of graphics cards.

Big performance, big features, low price (as far as the high-end can be low), low profile. For some people shopping in this sector, that's slap bang in the middle of their product radar and very attractive. For while flash and glitz are all well and good, at the end of the day these boards are just bits of hot, complicated silicon that put pretty pictures on a screen. No matter how you tart them up, that's what they do at the end of it all.

So, do you pay a little extra for a heavyweight copper cooler, a copy of a game that isn't even released yet and presentation that would put Britney Spears to shame? Or do you pay a little less for reference cooling, no games bundle and low key presentation, to save some cash and get straight to the point?

AOpen think the latter. A long time supplier of solid no-frills products to a bunch of PC component markets, AOpen have been there and done that. They think, actually they know, they have their target market cracked and it's hard to argue. While a flashy public image would undoubtedly lead to greater sales figures, simply due to more public perception of their brand, AOpen are quite happy to take the tortoise's route in the component market, rather than the hare's.

It's with all that in mind that I was more than pleasantly surprised to get the Aeolus GeForceFX 5950 Ultra last week. I didn't even expect it to arrive, being unaware a sample had been organised. The tiny box it arrived in didn't give the game away as to its contents, I was half expecting a mouse or something similar.

It turns out it's the reference board in all but name. Here's the relevant information, along with that of 9800XT, the FX 5950 Ultra's nemesis.


| | | |
| --- | --- | --- |
| | GeForce FX 5950 Ultra | Radeon 9800XT |
| GPU Name | NV38 | R360 |
| Transistor count | Unknown | Unknown |
| Manufacturing process | 130 nanometre | 150 nanometre |
| Pixel pipelines | 8 (**4) | 8 |
| Pixel shader units | 1 per pipe | 1 per pipe |
| Memory bus width | 256-bit/32-byte | 256-bit/32-byte |
| Texturing units | 1 (**2) per pipe | 1 per pipe |
| Core clock | 475MHz | 412MHz |
| Memory clock | 950MHz DDR | 730MHz DDR |
| Pixel fillrate | 3800 Mpixels/sec (**1900Mpixels/sec) | 3296 Mpixels/sec |
| Texture fillrate | 3800 Mtexels/sec | 3296 Mtexels/sec |
| Memory bandwidth | ~30.40GB/sec | ~23.36GB/sec |

Strangely, despite the improved performance of 5950 Ultra versus its 5900 Ultra sibling, coupled with the use of 256MB of stupidly fast 2.0ns DRAMs, current retail 5950 Ultras are a fair bit cheaper than 5900 Ultras ever were. While I feel bad for investors in the older cards, lower prices can only be a good thing for the rest of us.

I'll skip the talk on how NV38 modifies the way it processes pixels depending on the presented render setup, I've said the same things many times before. Feel free to have a read of the others and see what I'm talking about.

So with boards finally trickling in from retail partners, something AOpen are very proud to be, solid NVIDIA supporters for a long time, it's nice to take a look at my first air cooled retail sample.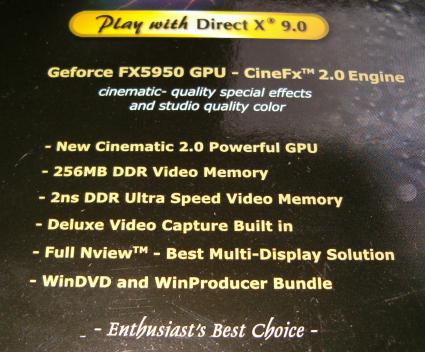 Let's take a look at how it's presented.