The best R9 280X?
Just recently, we asked whether graphics-card rebrands were acceptable to you. The consensus was that if the 'new' version was faster and cheaper than the one it ostensibly replaced, then that was just about acceptable. AMD's recent transition from Radeon HD 7000 to R9/R7 cards - a rebrand in the main - straddles the fine line between what we believe to be acceptable, then.
AMD's largest board partner is Sapphire. A new launch isn't complete without Sapphire rolling out a number of graphics cards, usually overclocked to the hilt. The R9 280X is no different in this regard, with two overclocked versions - Vapor-X and TOXIC - already on retailers' shelves.
The TOXIC variant appears to be the more interesting of the two. Featuring a new cooler, heavily overclocked frequencies, and a competitive street price of £260, let's put it through the review wringer.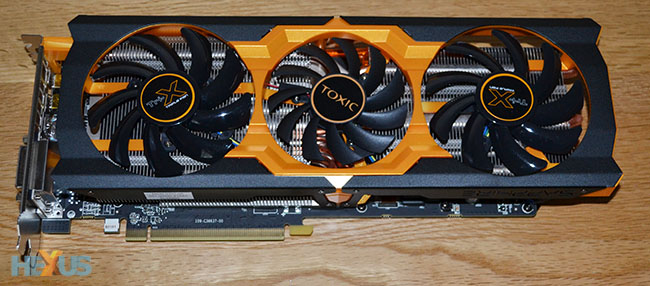 This here card is built for performance above all else. The off-centre cooler stretches out overall length to 308mm (12.1in), so do be aware of any spatial restrictions before purchase. Bolted on to the PCB by four screws and the orange-coloured holding section on the top-left, the TOXIC is almost as substantial as the Asus TOP.

The heatsink, dubbed Tri-X, sits a little higher than the dual-slot backplane, making the cooling about 2.2-slots high. What this really means is that you'd probably need to sacrifice the next slot along.
A trio of fans - 90mm on the sides and 80mm in the middle - force air over the card-wide heatsink and then back into the chassis. Sapphire's logo lights up when the card is switched on. Two 8-pin power connectors add to the enthusiast look and feel for this TOXIC.
Sapphire continues to use a BIOS-switching button mounted next to the two CrossFireX fingers. It has no effect on clockspeeds and performance, as far as we can discern, though it's entirely possible that alternative BIOSes will be made available at some point. Sapphire says that retail cards will have both Uefi and non-Uefi BIOSes - the former providing a fast method of booting into compatible operating systems.
With all this focus on cooling, frequencies should be, and are, very good, easily beating the peak 1,000/6,000MHz clocks of the reference card. This R9 280X GPU is programmed for a default core speed of 1,100MHz, rising to 1,150MHz under the auspice of a GPU Boost-like feature. We noted that our TOXIC sample ran at 1,150MHz for every game we tested. Memory is overclocked, to 6,400MHz, which is good to see, so the TOXIC is the fastest production card we've come across thus far.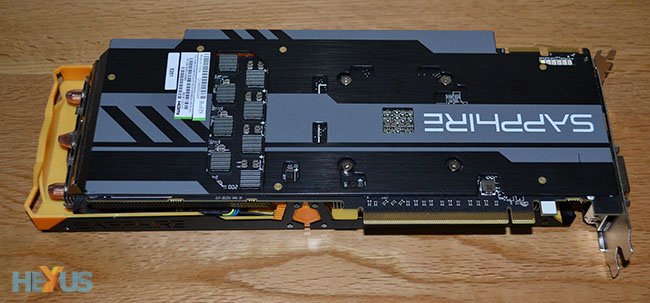 A PCB-wide backplate offers more cooling opportunity, and Sapphire sensibly adds individual heatsinks to the various chokes on the card. Though more of a gimmick than practical aid, six LEDs, near the CrossFire section, provide visual feedback for the GPU temperature.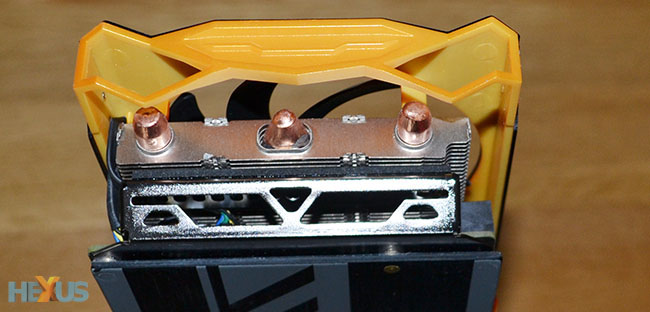 High speeds are usually allied to higher-than-reference voltages. Keeping all that power in check is an interesting heatsink design that has three heatpipes on one end and a further two (non-connected) on the other. The three pipes on this side are 10mm thick, and we don't know of anyone using thicker cooling.

The heatpipes all converge around the copper insert that makes contact with the GPU. This is a tried-and-trusted design that has historically worked well.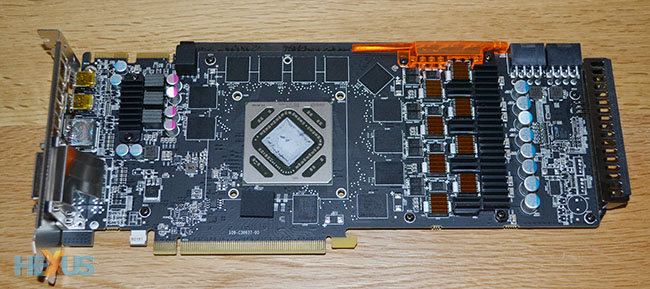 What you're looking at is a custom Radeon HD 7000/R9 280X board particular to Sapphire. It's good to see a heatsink adorn the Mosfets - something we believe should be standard on high-end cards.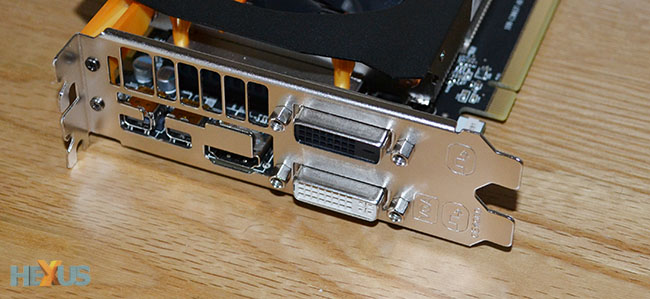 And why go with reference video outputs when the entire card is custom? Single- and dual-link DVI sit next to full-size HDMI. Sapphire replaces the usual DisplayPort output with two miniDisplayPort, paving the way for a five-monitor setup, and the company does the right thing by bundling a miniDP-to-DP connector in the package.
Well-built, overclocked to the highest frequencies we've thus far seen on a Radeon R9 280X, the Sapphire TOXIC, backed by a two-year warranty, is available for £260, or about the same price as other firms' best cards.