Accelerating GTX 770
Now available for under £300 and better than the outgoing GeForce GTX 680 in every way that matters to the gaming enthusiast, Nvidia's GTX 770 makes a compelling case as a go-to card for console-beating graphics - next generation and all. We've previously demonstrated these high-end cards making a mockery of full-HD resolution gaming with all manner of visual treats in tow.
KFA2, Gigabyte, Zotac, and Palit have all had their custom-designed GTX 770 models put through the review wringer. Last but certainly not least is PNY's GeForce GTX 770 XLR8 Enthusiast Edition model, available from UK retailers for £330 - or a 10 per cent premium over stock cards.
PNY confuses matters by, it appears, having two versions of the XLR8 EE. One model - GF770GTX2GEPB - uses a triple-fan cooler and clocks in at a reference-like 1,046MHz core and 7,010MHz memory, while the other, the review card - KF770GTX2GEPB - runs substantially faster.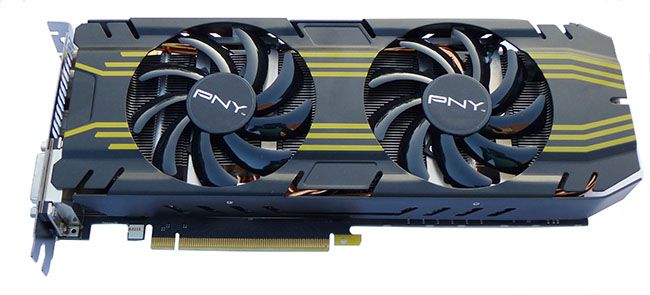 And here is the card that makes reference speeds of 1,046MHz core and 7,010MHz memory look decidedly weedy. Measuring 10.5in long and using a full-width cooler, this XLR8 EE chimes in at 1,150MHz core (GPU Boosting to 1,202MHz, on average) and a 2GB framebuffer that's marginally overclocked to an effective 7,200MHz. The overall frequencies, then, are identical to the Zotac AMP! version.
The all-metal heatsink is a nice departure from some of the more plasticky cards we've tested recently. Two shallow 90mm fans sit on top of 42 aluminium fins that are punctuated by five thick copper heatpipes. The quintet converge into a raised copper insert that makes excellent contact with the underlying GPU. The cooler is absolutely new and specific to this model; it's not present on the GTX 680 version of this card.
PNY has also taken care by installing two specific heatsinks on the hotter-running components and 2GB of memory, which bodes well for overclocking the card further.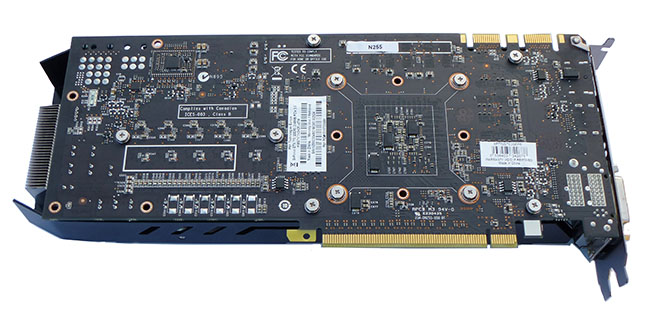 PNY's PCB isn't based on the reference design by Nvidia, however. There's a half-inch heatsink overlap on the left-hand side and the usual two SLI connectors on the right.
Further examination of the PCB reveals there's ample room to house the usual 8+6-pin power connectors side-by-side, a la reference, yet PNY decides to go for the stacking arrangement we first saw on the reference GTX 680. This means the PCIe power connectors face one another. Installation is just as straightforward as affixing them alongside each other.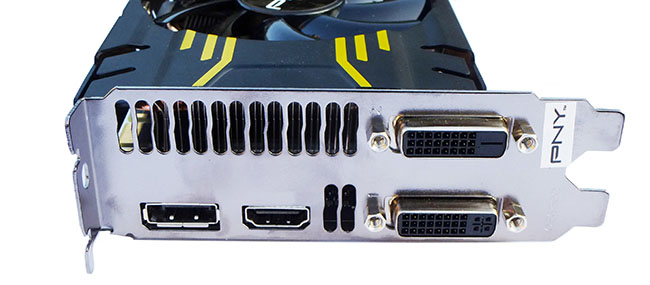 The semi-enclosed heatsink has various cutouts to enable warm air to escape into the chassis, though we'd prefer a fully-enclosed design that drives warm air straight out of the back. PNY thankfully doesn't interfere with Nvidia's recommended video outputs of DVI-I, DVI-D, HDMI and DisplayPort. Though PNY says maximum resolution is limited to 2,560x1,600, the card has no problem in running a 4K monitor.
Backed by a three-year warranty and shipping with some of the highest clocks we've seen on a GTX 770 thus far, and therefore being competitive with the dearer GeForce GTX 780 as a direct consequence, let's see if this is the high-end card to own. Oh, and for a limited time only, Nvidia is offering a download code for Tom Clancy's Splinter Cell Blacklist if purchased through approved retailers.