Overclocking the Frozr
Our benchmarks show that, on balance, a GeForce GTX 670 is faster than a Radeon HD 7950; the same rationale applies to pre-overclocked cards. Yet the Radeon HD 7950 has one trick up its sleeve that may redress this imbalance; it overclocks like crazy.
Raising the shipping voltage from 1.09V to 1.15V and bumping up frequencies, take a look at what we got to: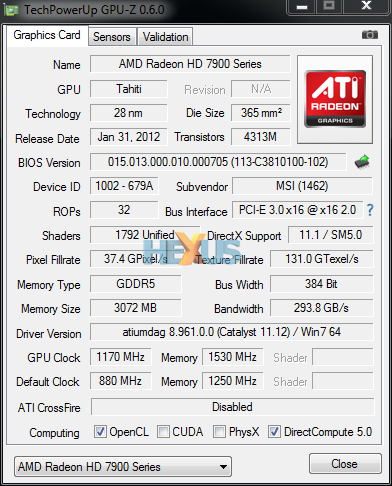 Yes, sir, a 33 per cent hike on the core and 22 per cent on the memory. Making use of it where it matters most, we applied these clocks and ran Aliens vs. Predator and Crysis 2 - the two benchmarks that it scores (comparatively) best and worst in - at the three-screen, 5,760x1,080 setting.
Giving you the average scores first, AvP jumped from 28.1fps to 35.9fps and Crysis 2 from 16.3fps to 21fps. We reckon the increases make more sense if viewed on the flowing fps graph.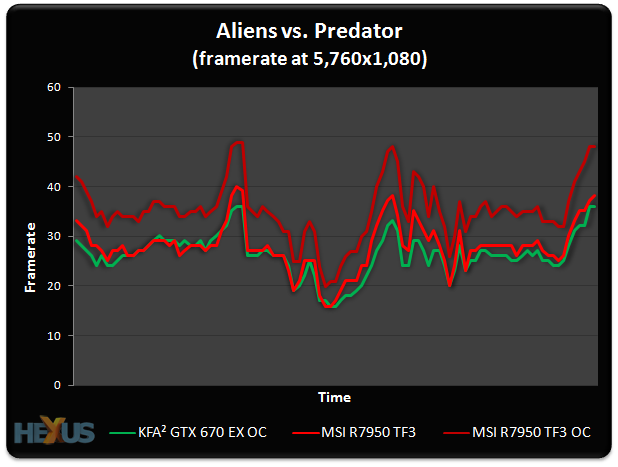 Average performance has risen by almost 30 per cent at 5,760x1,080. The framerate log shows that there's only one section - the pesky middle one - where the OC card's performance drops below 30fps.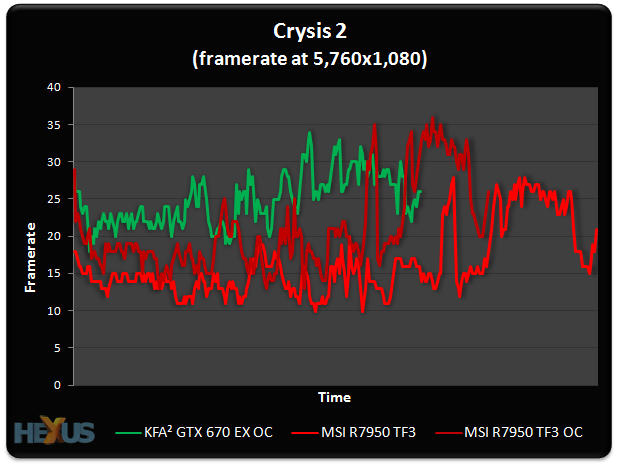 Crysis 2 is lots faster on a GTX 670 OC. Even the rampaging MSI R7950 TF3 cannot do too much about it. It really boils down to the types of games you play and the card's performance in those titles.