Third Frozr's the charm
AMD very much had the premium graphics limelight until NVIDIA wrenched it away by releasing the GeForce GTX 680 and GTX 670 GPUs. But a recent spate of price cuts, most likely instigated in response to the threat from NVIDIA, has brought the Radeon HD 7970 (£350) and HD 7950 (£300) back into focus.
Playing both sides for a while, manufacturing giant MSI is in a win-win situation, and while it typically isn't first to market with a custom-designed, pre-overclocked model for a premium GPU, its 'Twin Frozr' and 'Lightning' cards have a solid reputation.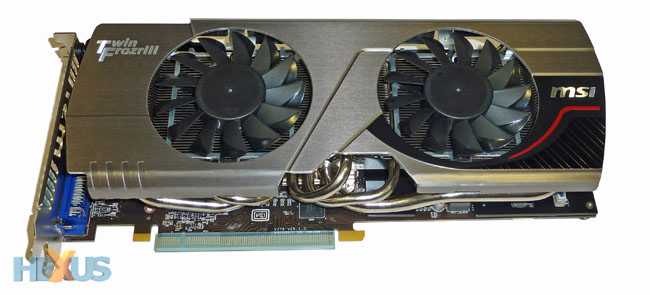 MSI's recipe for its best Radeon HD 7950 is simple: take the GPU, mount it on a custom board, and then attach a gargantuan cooler that goes by the name of Twin Frozr III. Now in its third incarnation and found on other GPUs such as GeForce GTX 680 and GTX 570, the card-wide heatsink uses two 80mm fans sat on top of aluminium fins that are in turn connected to the GPU. Efficiently transferring the heat from the core to the fins is the job of five nickel-plated heatpipes. They vary in size, with the two bottommost being 8mm-thick and the upper trio a Slimfastastic 6mm.

There's considerable intent on getting heat away as quickly as possible from the GPU, granted, but it seems as if MSI has missed a trick by not covering the memory modules with a dedicated heatsink.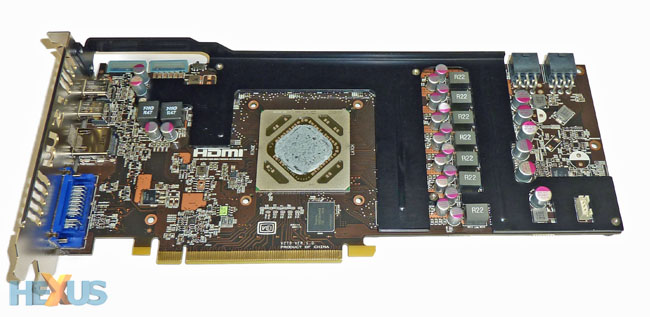 But whip the cooler off - which is a cinch, requires taking away four holding screws - and the standard Frozr frame is in evidence, covering the remaining memory modules and hot-running components. It's the irregular nature of the bottom-positioned memory chip that makes it stand out. We removed the cooler less than a minute after testing; the aluminium frame was hot to the touch, suggesting that it's doing its job well.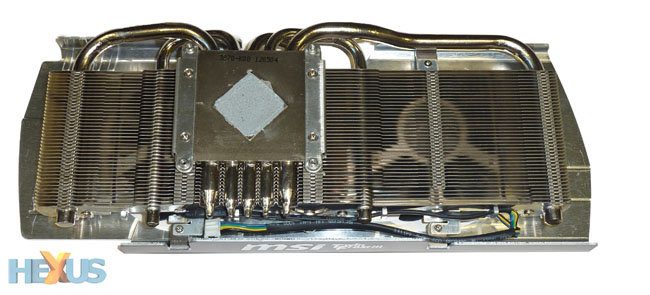 You can probably just about make out the different-sized heatpipes that make up the Frozr III cooler. It's sturdy, well-built and looks to have enough cooling capacity to deal with an over-volted card.

Coming back up top and looking at the fans, MSI calls these 'propeller blades' and reckons they provide 20 per cent extra airflow, at the same RPM, as traditional fans, thanks to the benefits arising from a gloss coating, a small arc, and specific grooving. We'll be putting this assertion to the test when examining the temperature and noise credentials.
Right next to the two CrossFire fingers is the now-familiar BIOS-toggling switch. Moving it from the as-shipping setting has, as far as we can tell, no effect on the card's frequencies or fan-speed profile.
Dual-slot in appearance and kitted out with the standard 6+6-pin PCIe power connectors, this card is properly identified as the R7950 Twin Frozr 3GD5/OC. A reference Radeon HD 7950 card chimes in with core and memory frequencies of 800MHz/5,000MHz, respectively. MSI increases the core speed by 10 per cent, to 880MHz, but leaves memory overclocking to the user. The card is fully compliant with a range of overclocking utilities and the GPU core can be over-volted, should you so wish.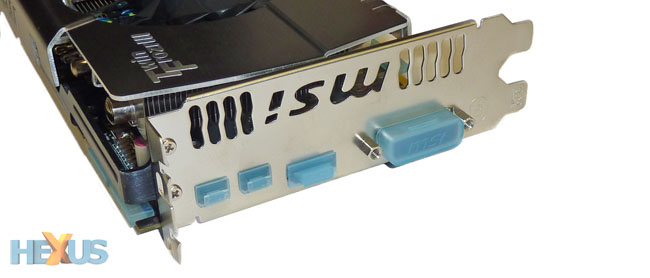 MSI's backplate is custom insofar as it has, well, MSI's name on it. The outputs match the AMD reference card's. Presented with an open-air cooler and with the majority of GPU-transferred heat escaping back into the chassis (unless you have excellent airflow) the two small vents are more decorative than useful. Even under the harshest of load we could only feel a mere zephyr of hot air being exhausted out of the back of our Corsair Graphite 600T chassis.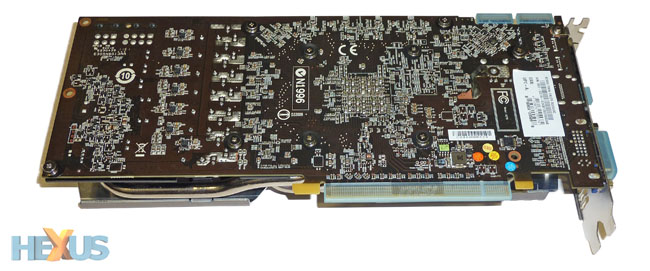 The magic, so to speak, is all contained on the other side. This version misses out on some of the features present in the Power Edition Frozr IIIs, namely triple over-voltage regulation - GPU, memory and PLL - but still carries what MSI terms as 'Military Class III' components. To you and me that's solid capacitors, solid-state chokes and a Hi-C cap for the GPU, mainly for better voltage regulation.
Shipping with a perfunctory bundle that includes a mini-DP-to-DP adapter, CrossFire cable, D-sub adapter and external Molex connector, the price may win you over. Currently available for just under £320, including VAT, representing just a £20 premium over a bone-stock card, there's much to like here. Trouble is, this card is going to go up against the also-impressive GeForce GTX 670 GPU, and we've tested both in an interesting way...