Power draw and HEXUS Bang4buck
Partner cards arrive with all manner of cooling place. Comparing the temperatures and noise profiles of the trio is verging on the pointless. However, a quick peek at the power-draw figures is still a worthwhile exercise. All three cards are run with default voltage.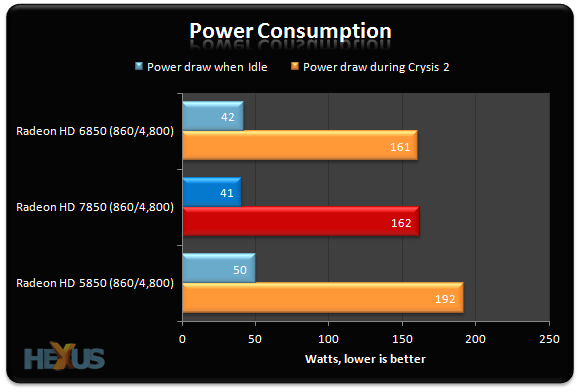 HEXUS Bang4buck and Bang4watt
Value and power-efficiency analysis at 1,920x1,080

Graphics card
Aggregate FPS
Approx. price (at launch)
Bang4buck
Power consumption
Bang4watt2
AMD HD 7850 (2,048MB)
235.50
£185
1.27
162
1.45
AMD HD 6850 (1,024MB)
198.50
£150*
1.32
161
1.23
AMD HD 5850 (1,024MB)
202.30
£200*
1.01
192
1.05
* average price.
This simplified value and power-efficiency analysis paints the obvious truth that even overclocked cards from the previous generation aren't as potent as the Radeon HD 7850 2GB. AMD has shuffled the model-numbering around, sure, but there is an increase in overall gaming performance when moving through the HD 5850, HD 6850 and HD 7850 GPUs. And do remember that the older GPUs' frequencies have been manually increased to match the latest card's.
Factor in the system-wide power-draw and the HD 7850 wins the Bang4watt metric, which is a measure of just how much performance is gained once power efficiency is taken into account.