Let me show you a magic: the great rebranding exercise
Let me show you a magic trick: the great rebranding exercise



Before delving into the guts of what GeForce GTS 250 is, let's see how NVIDIA is positioning the new GPU.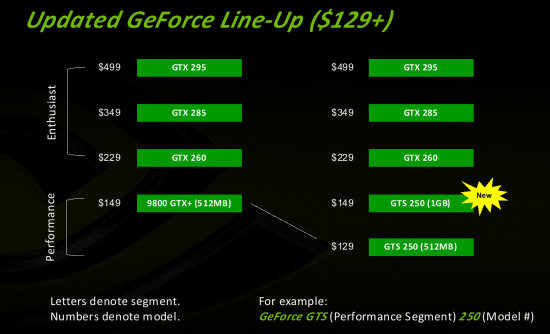 All images courtesy of NVIDIA


Priced in U.S. dollars and correct at the time of writing, NVIDIA's high-end GPUs will remain unchanged from both architecture and price points of view. The GTX family represents the pinnacle of NVIDIA engineering and the nomenclature will be kept for future iterations.

Look further down and the long-in-the-tooth GeForce 9800 GTX+ 512MB is currently available for around $149 online.

NVIDIA is keeping this GPU alive well into 2009 by

rebranding it

a GeForce GTS 250 512MB. Yup, folks, the GTS 250 512 is nothing more than a GeForce 9800 GTX+ by another name. Hey, presto, all present owners of the card have a 'new' GPU - kind of.

To be fair, NVIDIA isn't hoodwinking anyone into thinking that it's anything different, but a change in name, for cleaner nomenclature's sake, is something of a let-down when we expected a new, more potent architecture in the mid-range space - a lesser GTX 260, perhaps.

We don't have a real problem in companies rebranding products because it happens all the time, but our disappointment is centred around a lack of performance innovation than anything else. NVIDIA's partners should drop the prices by around $20, and we will probably see the cheapest GTS 250 512MB/9800 GTX+ 512MB (same thing) etail in the UK for around £100 for a bone-stock model, clocked in at the reference 738MHz core, 1,836MHz shaders, and 2,200MHz GDDR3 memory interfacing via a 256-bit memory bus.